The Borgias 2011 Winter TCA Panel Quotes and Pics
The Borgias Bring a Touch of Sumptuous Scandal to the TCA
One of the sexier shows to take the stage at the Winter TCA was Showtime's lusty historical drama The Borgias. Its cast, including Jeremy Irons and Colm Feore, and the creator, renowned filmmaker Neil Jordan, took the stage to talk about the new series. They touched on the historical accuracy of the story of the Borgia family, the scandals we can expect to see onscreen, and just how steamy things are going to get.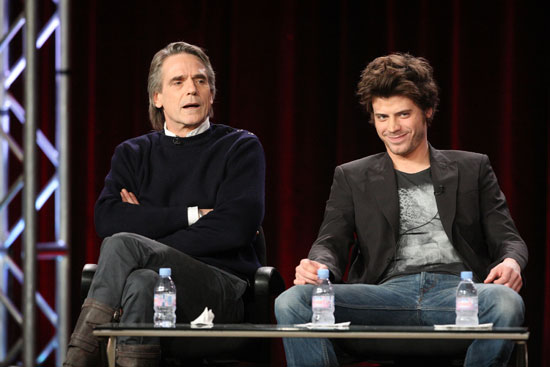 Irons leads the cast as Rodrigo Borgia, a character that's been called the original Tony Soprano. Irons is well-equipped to sink his teeth into the role of the family head who eventually becomes Pope in 1492, citing the juicy goings-on of the time period: "murder, poisonings . . . incest here, sodomy there."
Jordan said that the "entire series is about God and power" and seems to have found a minefield of drama in the scandalous history of the Borgias. He said he "didn't have to manipulate events to make them dramatically engaging" and that the events are pretty well documented: "I didn't have to make things up to make these people seem crazy."
I, for one, am excited about the costumes, which Irons called "amazing" and added that he got so used to the period garb that he felt uncomfortable in a pair of pants. He said the women's costumes are "extraordinary," and pointed out that it's just one example of what makes the show on the whole a sumptuous affair.
There is an incestuous storyline in store on the series, as there had been rumors during the Renaissance of an affair between brother and sister Lucrezia and Cesare Borgia. Jordan says that they were people who were simply "utterly fascinated by each other," and it won't be "a story about incest, it's a story about two people who were enraptured with each other."
Don't forget to check out all of my coverage from the Winter TCA