Brad Pitt on Angelina Jolie in EW Magazine
Brad Pitt Tells EW Mr. and Mrs. Smith Was "A Great Collaboration That Turned Into a Greater Collaboration"
Brad Pitt covers the new EW, which is on newsstands tomorrow. Inside the issue, he chats all about his new movie Moneyball as well as some more personal topics. He revealed that early on in his career, producers tried to steer him toward TV, and he managed to avoid doing so except for his memorable cameo on Friends. Brad also touched on how he and pal George Clooney deal with having been ranked People's Sexiest Man Alive as well speaking about why he and partner Angelina Jolie should be doing all their work together. Brad said: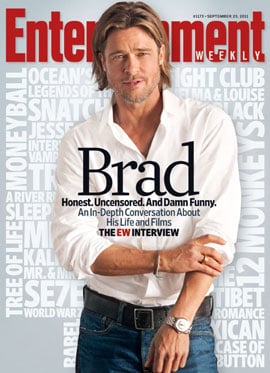 On producers wanting him to start in TV: "You know, when I first started, they were trying to get me into sitcoms — I think because I had that kind of Wonder Bread look and my hair always went into place. I kept saying, 'I'm not good at sitcoms. I don't know how to do that. . . . But that [his Friends cameo] was a little bit later, and I like those guys. They're a great bunch of guys. The movies I loved were a complete 180 from situation comedy, and that's what I wanted to head towards."
On winning Sexiest Man Alive: "Well, they're not saying you're the Biggest A--hole, you know? When you get older, you realize it's just for fun. Clooney and I were able to have fun with it later. But in some ways, I'm still a kid from Missouri and Oklahoma, and I'm trying to find my way. By the way, we're only talking about a blip. I didn't spend much time thinking about it."
On Mr. & Mrs. Smith: "A husband and wife who actually want to kill each other — I thought that was a launching pad for something really fun and vibrant. Again, that was something we were developing as we were going along, and Angie's a great partner in that. We work really well together. We had some good workshops beforehand. Had some good laughs and ideas. That was just a great collaboration that turned into a greater collaboration."
On his and Angelina's rule not to work while the other is: "We should be doing them together — that's what we should be doing. We should be doing everything together, and then we could work less. We could have more time off."