Brave DVD Release Date
What to Rent: New DVDs This Week
2 Days in New York is also available on DVD this week.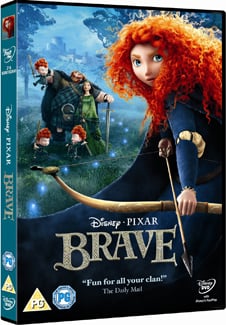 Pixar's latest introduces Merida (voiced by Kelly Macdonald), a rebellious princess intent on changing her destiny. Though her traditional Irish family would like her to marry and fall in line with her royal duties, the strong-willed teenager would rather choose her own path. Merida's conflicted relationship with her mother is at the core of the story, and though the film is enjoyable, it's a little predictable and isn't quite as imaginative as some other Pixar films. The DVD includes director commentary and two short films: "La Luna" and "The Legend of Mordu."

78%
Taylor Kitsch and Aaron Johnson star as Chon and Ben, two ambitious small-time drug dealers happily sharing the affections of O (Blake Lively). When a drug queenpin (Salma Hayek) notices the two are taking a slice of her sales, she offers them an ultimatum: sell their business to her or face the consequences. Ben and Chon opt to maintain their operation but live to regret it when O is kidnapped. Oliver Stone's high-stakes tale is visually breathtaking and a fun take on modern drugddealers, but squeamish viewers should beware of the graphic violence. The DVD comes with director commentary, deleted scenes, and a making-of featurette.
51%
Get one more new release after the jump.
Directed by Akiva Schaffer and co-written by Seth Rogen, The Watch puts a new spin on the dangers of being on a neighborhood watch rotation. Ben Stiller, Jonah Hill, Vince Vaughn, and Richard Ayoade star as the suburbanites who take their job a little too seriously. The group's worst fears are validated upon discovering that aliens have infested their town, so they take it upon themselves to secure their block once again. Despite the impressive cast, the movie is busting with low-brow jokes and struggles to find its footing. The DVD includes deleted scenes, a gag reel, and several featurettes.
17%