Breaking Bad Season 5 Premiere Review
Breaking Bad Season Five Premiere: What'd You Think?
At long last, Breaking Bad has finally returned, and season five kicked off this week with a predictably compelling episode. As the cast teased at Comic-Con, the episode is low on violence, but opens with a mind-boggling scene showing Walt on what appears to be his 52nd birthday. It's a throwback to his 50th birthday in the pilot, only this time he's all alone and using an alias. Then, of course, there's the matter of the insanely large firearm that he acquires. I think it's pretty clear that we'll be waiting for answers behind the mysterious flash-forward for the rest of the season.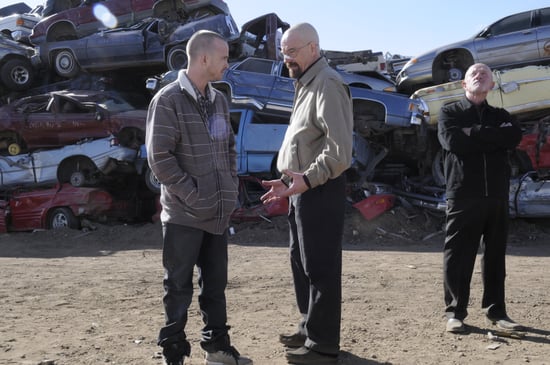 Beyond the cold open, the season premiere is tense as Walt, Jesse, and Mike struggle to come up with a way to prevent the police from seeing what's on Gus's laptop. I loved that Jesse gets to play the hero with his magnet suggestion, though the whole operation went a lot more smoothly than I expected it to — aside from the whole overturned truck fiasco. Walt's newly-boosted ego is the star of the episode, complete with lines like "I won" and "We're done when I say we're done." The kicker, though, is when he has the gall to tell Skyler that he forgives her. There's a lot to chew on here, so let's discuss: what did you think of the episode?
Photo courtesy of AMC