Breaking Bad Season Five Comic-Con Panel
The Breaking Bad Cast Teases Its Funny, Intellectual, Eerie Season Five
Breaking Bad returns for a fifth season this week, and Comic-Con fans were given a very special treat with the show's very first panel at the convention. The honor wasn't lost on the cast — Dean Norris (who plays Hank) came out dressed as Xena, while Bryan Cranston and Aaron Paul donned their signature yellow suits, and gleefully threw out candy to the crowd that looked suspiciously like the blue meth they deal on the show. The cast and creator Vince Gilligan were pretty tight-lipped about what's in store for the last 16 episodes, but they did let a few secrets spill, namely that Sunday's premiere is going to be one big, intellectual teaser for the rest of the season. Here are more highlights from the panel: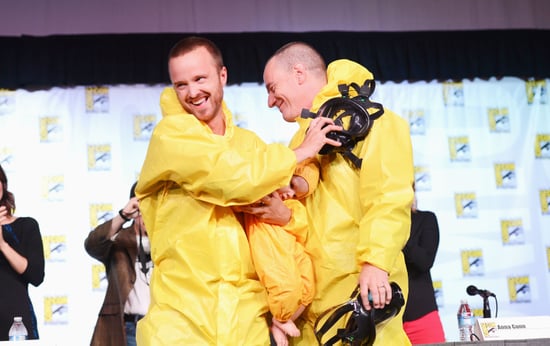 The season four premiere was ultraviolent (I still have nightmares about the box-cutting scene), but don't expect this week's episode to follow suit. The cast described it as "mind-bending," "intellectual," and "compelling" . . . while also hinting that there's something awkward in store between Walt and a kind of food.
Other tidbits we learned about season five: we'll be introduced to a woman named Lydia, a former associate of Gus Fring; Walt's business will take him to Hanover, Germany; and there's a lot of dark humor throughout the season now that a weight has been lifted from Walt's shoulders.
As for the tone of the upcoming episodes, Paul described it as "eerie," recalling the "Crawlspace" episode last season that ends with Walt's maniacal laughter.
Walt has already piled up a laundry list of unspeakable acts that he's committed, but Gilligan hinted that it's about to get worse when he said, "[Walt] does something this season that, as a viewer, I'd probably say I've lost all sympathy [for him]."
To see what Cranston has in mind for the finale and Sunday night's best line, just
.
Cranston mentioned that a lot of fans ask him if the show could ever have a happy ending, and after joking that he replies, "Have you seen the show?" he said, "Perhaps the happy ending would be that [Walt] dies. I don't know. He's become so toxic and so cancerous in and of itself, so maybe that's the way it has to go. But I truly don't know what's in this man's head. We don't know what he's going to do. We don't ask, and he doesn't tell us — and we like it that way."
It seems like it's been a while since the threat of Walt's cancer has come into play, but Gilligan assures us that it's still very much a factor, that the writers haven't forgotten "the threat" of that story line.
Cranston and Paul proved that they have just as much fun with each other off screen as they do as Jesse and Walt. When Paul mentioned that Mr. White "screws everything up" for Jesse, Cranston retorted, "Your whole life was aimless until I came along!"
Apparently we'll all be bonding over this line from Jesse in the premiere: "Magnets, bitch!" Is it Sunday night yet?!