Breaking Bad Season Four Premiere Airs Tonight
4 Reasons to Start Watching Breaking Bad
After a year-long hiatus, Breaking Bad finally returns to AMC tomorrow night for its fourth season. Though the drama series has a strong fan base and tons of critical acclaim, it's not exactly the most-watched show on television. I'll admit that I haven't been on board since the beginning, but once I gave it a chance, I was totally hooked. For that reason, I'm pleading my case for why I think you all should take the opportunity to get into the show.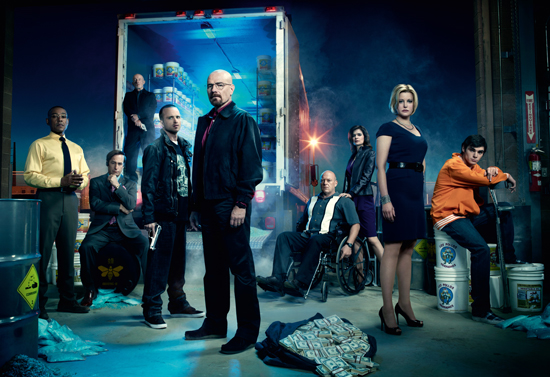 It's more than just a depressing series. Many people shy away from Breaking Bad's somber premise: a cancer-stricken man turns to drug dealing to help provide for his family before he dies. It's true that the show has its fair share of darkness, but it's a lot more than gut-wrenching sadness week after week. For one thing, there's an unexpected amount of humor on Breaking Bad, particularly in the unlikely relationship between Walt (Bryan Cranston) and Jesse (Aaron Paul).
It's not like any other show you're watching right now. I got sucked into Breaking Bad because it was such a novel premise. Sure, on paper it might sound a teeny bit like Weeds, but with so much more heart. The drama series isn't simply about a man with cancer; it isn't simply about dealing drugs; it's about a man struggling with his his own mortality and morals, and in turn, about his relationships with those around him.
It's got Emmy love in spades. Though Breaking Bad's long hiatus has made it ineligible to be nominated for the 2011 Emmys, the show has already earned a whole sackful of accolades. Aaron Paul won his first trophy last year, and Bryan Cranston is undefeated for his work on the show, taking home the gold for outstanding lead actor in a drama three times in a row.
There's nothing else to watch! The hot Summer months are filled with guilty pleasures like The Bachelorette, Jersey Shore, and True Blood, but just because school's out doesn't mean your brain needs to take a vacation, too. Breaking Bad's gripping drama will be a welcome reprieve from all of that mindless scandal — and let's face it, it's not like your DVR is clogged with tons of other stuff right now.