Breaking Dawn Part 2 DVD Release Date
What to Rent: New DVDs This Week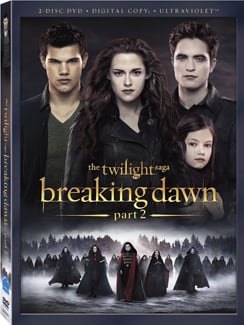 Bella (Kristen Stewart) and Edward (Robert Pattinson)'s saga comes to an end in this lackluster conclusion to the Twilight films. After giving birth to their half-human/half-vampire child, Renesmee, Bella makes a fast recovery and adjusts to her new vampire prowess. Soon enough, the entire Cullen clan must face up to the Volturi, who suspect Renesmee was illegally made into a vampire child. The battle scene is a thrilling climax, but unless you're a Twilight devotee, there's not much else to see here. The DVD comes with several featurettes, a music video, and director commentary.
48%
Joaquin Phoenix stars as a troubled war veteran who has difficulty adjusting to everyday life after returning from the war — until he finds a charismatic man (Philip Seymour Hoffman) who promises to restore him to sanity. Though the man and his family have questionable methods and philosophies, the two forge a unique bond. Amy Adams also stars in this intense, puzzling drama from Paul Thomas Anderson. DVD extras include footage not used in the film.

86%
Check out one more new release after the jump.
This emotional surfing film tells the true story of Jay Moriarty (Jonny Weston), a young surfer who is begrudgingly taken under the wing of seasoned professional Frosty Hesson (Gerard Butler). As Frosty helps train Jay to undertake a legendary Southern California wave, they become close, teaching one another as they go. Though the surf scenes are heart-pounding, the plot is nothing new, and neither is the movie as a whole. The DVD includes writer commentary, deleted scenes, and a few featurettes.
33%