Breaking Dawn Part 2 Footage From Comic-Con
Robert Pattinson, Kristen Stewart, and the Twilight Cast Share Memories and Talk Breaking Dawn 2 at Comic-Con
The cast of Breaking Dawn Part 2 took the stage at Comic-Con together for the last time today. As Kristen Stewart pointed out, it was a bittersweet affair, as they showed love for the fans and shared their favorite moments. The fans themselves were in for a big treat: the first seven minutes of the movie were shown during the panel!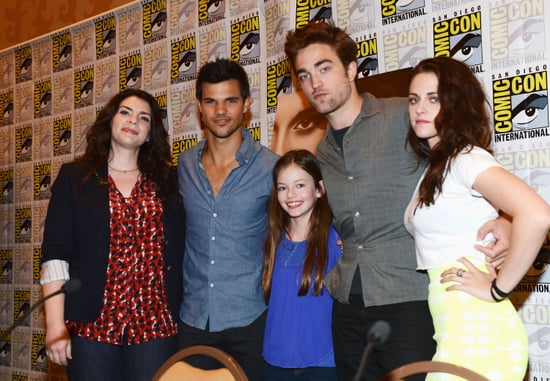 As usual, the cast — which included Kristen, Robert Pattinson, Taylor Lautner, Mackenzie Foy, Ashley Greene, and the rest of the major players — kept it light and riffed off each other, while getting a bit sentimental about going into the home stretch of their Twilight careers. Here are highlights and memorable quotes from the cast:
Bella's transformation to a vampire was a hot topic during the panel. Both Taylor Lautner and Elizabeth Reaser commended Kristen's performance, while Kristen herself boasting, "I love her [Bella], I think that she's the coolest one [vampire], so I had fun doing it."
Kristen added that she loved shooting the running and hunting scenes as a vampire and that having to wait for Bella's transformation was like "waiting for Christmas."
As usual, Robert made fans laugh with his off-the-cuff humor. The best line of the panel goes to his response when a fan asked what kind of advice Edward from Breaking Dawn Part 2 would give Edward from Twilight. His answer? "Keep it in your pants."
To see what else the cast had to say and what you can expect to see in Breaking Dawn Part 2, just read more.
Robert also revealed that he managed to make it all the way through the series without ever wearing a wig — except for the final two days of reshoots, when he had to cover up his post-Cosmopolis 'do.
Mackenzie Foy, who will be making her debut as Renesmee in the film, was all adorable smiles on the panel among her costars. She was particularly cute sharing her favorite scene in Breaking Dawn Part 2, saying, "Riding Jacob-wolf. That was fun! I lost a tooth."
If you're wondering what's in store for the first seven minutes of the film, here's what to expect: a very memorable first embrace between Edward and vampire Bella, the nitty-gritty of Bella's first hunting experience, and Bella making it unanimous that Jacob smells awful to vampires.
I was excited to see that Breaking Dawn Part 2 seems like it's going to be a lot more fun than Part 1 — or at least funnier. The clips we saw poked fun at Bella's newfound vampire abilities (and her struggle to act normal for her dad), and Taylor teased that his favorite scene is the one in which he tells Bella that he imprinted, boasting that it's "hilarious."
Robert added that there's a lot of humor in Edward's reaction to Bella as a vampire, saying, "The weird thing is he is constantly surprised by Bella in the last four movies, but he's even more surprised now. You'd think if they were the same creature, there'd at least be a little more understanding of her, but there's even less understanding of her, which is kind of fun."
Kristen spoke for the rest of the cast when asked if they were sad that the Twilight saga is finally coming to an end. She said, "This is sad right now, to be honest. But we got to live in this world for such a crazy long period of time compared to the time that you usually do. So it's sad, but it feels good. Everyone keeps throwing this word around, and I don't want to hear it anymore but . . . it's bittersweet."