Bret McKenzie Interview on The Muppets
The Muppets' Music Man Bret McKenzie on His Oscar Nod and Taking a Silly Job Seriously
Bret McKenzie is up for an exceedingly rare honor this year, with his ballad "Man or Muppet" earning one of just two nominations in the Oscars' best song category. I caught up with The Muppets' musical supervisor today at Walt Disney Studios in Burbank to chat about the awards attention and the unique experience of penning music for Kermit and company. The New Zealand native talked about fighting the temptation to use the word "motherfrogger" in his songwriting and the roundabout way he came on board The Muppets project in the first place. Bret — who previously was best known as one half of the musical comedy duo Flight of the Conchords — also shared his hopes of bringing FOC to the big screen. Check out our conversation below: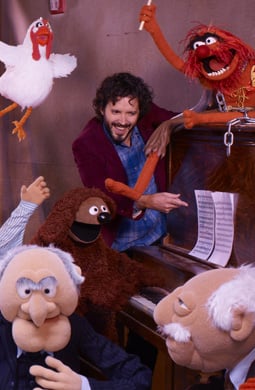 PopSugar: It's got to be an honor to be nominated for an Oscar, but also in a year when the Academy only bothered to nominate two songs.
Bret McKenzie: They barely nominated anyone! When I found out, it sounded like there'd been a mistake, and yeah, it's a huge honor. It's great and it's really exciting, and I'm not complaining that there's only two nominees the year I'm nominated. I mean, this is the best chance I'll have of winning an Oscar, ever. It couldn't have been better, unless there was just one nomination, and then it would be a very dull ceremony . . . There's a lot of legendary musicians — tunesmiths — in that list of possible nominations. So it's all very surreal to think that I got in ahead of Elton John.
PS: And Madonna. Those two had a little rivalry going on.
BM: I know. I got nervous about what Elton John's husband was going to say about me. It's crazy, and it's great for The Muppets film, because we're all really proud of the film and it wasn't ever really going to get a best actor. Hey, Jason's good, that's not what I mean, but Kermit, Miss Piggy — they can't win these awards — and comedies don't generally get recognized at these awards ceremonies, so it's kind of cool. It's almost like the film as a whole is being recognized with this category.
For more from our chat with Bret, including what he says about his plans for a Flight of the Conchords film, coaching Jason Segel, and the pressure he felt on the project, just read more!
PS: What was the biggest unexpected challenge for you writing music for the film? I know you talked about one draft of a song where you referred to a Muppet as a piece of felt and were told you couldn't do that.
BM: Yeah. Little piece of felt, and you couldn't say things like motherfrogger, even though it's very tempting. There were lots of hard parts to it. The Muppets can't sing certain notes. They can't sing too high or the voice changes and doesn't sound like the right character. There were so many weird things. I spent hours recording penguins and rats, and what's weird is that it's such a silly job, but you have to take it very seriously. So I would be in the studio for days, maybe a whole day recording penguins, and then I'm like, "I'm not happy with how the penguins are sounding! Where's penguin four?" You know, getting demanding. "We lost penguin track four! I can't hear the penguin!"
PS: I was watching the movie again last night and watching Jason Segel's performance of "Man or Muppet." Did you coach him on any of his rockstar moves? Because he pretty much nailed it.
BM: He nailed it. That's my favorite moment in the film. When he buckles down in the rain, that was one of my favorite shots. I was so proud of what James [Bobin, the director] and those guys achieved, because I wasn't there on set, I just saw them syncing the video, and I was like, "Wow, guys. You nailed it." What we did do in the studio, as Jason and I had a technique where I would sing a line, and he'd watch me through the window, and then he'd sing it back. So we did this thing where, I was really into the drama of it. So, I was like, "Am I a Muppppettt?" [balling his hands into fists] And he'd be like, OK, record. "Am I a Muppppettt!" So we kind of worked together to get that style.
PS: Did it shatter some of your childhood illusions to have the guy that does Miss Piggy's voice come work with you [in the recording studio]?
BM: Yeah. Well, it wasn't Frank Oz. The guy Eric, who does it now, yeah. That was strange. And the day that we recorded Kermit the Frog doing "Rainbow Connection" — I was sort of pinching myself, because that was probably one of the real moments for me where I realized that my world had really changed. That I'd come from New Zealand, I'd grown up with Kermit the Frog, and now I was in Hollywood in a studio recording Kermit the Frog. It felt like worlds had collided.
PS: Was there pressure knowing there was already this great catalog of Muppet songs? To try to add to that or top it in some way?
BM: I knew I wouldn't top "Rainbow Connection," but I was very intimidated, but the way I worked on the job was it actually started with me just writing one song, so I didn't feel the pressure of writing the whole movie. I think it would have been different if I'd been hired from the outset to do all the music. So I wrote one, then another, and gradually wrote more and more, so that helped.
PS: What song did you write first?
BM: The opening song. That's the one they needed, that's the one James asked me to write first. The script was probably on a second draft, and they were in preproduction, so I came in quite late. And the way they were doing it was, they got 100s of demos submitted from all sorts of songwriters, and surprisingly — even though they got some really great people to do demos — people weren't quite hitting the right tone. The Muppet tone. I'd just come off the Conchords tour and I had some time, and James asked if I was interested in doing that opening song, because he had a kind of specific thing he needed from that song. He needed it to be really Muppet-y, that song, and he had a great idea for the whole town joining in, it starting off small and becoming a big musical number, and that came together really well.
PS: Is this experience maybe something you want to bring to a Flight of the Conchords movie?
BM: Yeah, exactly. Having done this movie now, we're in a much better place to do a Conchords film, because James is more experienced — well, we're all more experienced. Not specifically, but James Bobin — well, we're all very keen to do another studio musical, because I really enjoyed being able to do comedy musical numbers on such a grand scale, and I think next time, I really think it will just get better and better. Because it's such a fun genre, and we've done like 50 songs for TV now, and now The Muppets movie, and I feel like we've accidentally sort of become musical comedy experts.
PS: What do you imagine Bret and Jemaine from Flight of the Conchords are up to these days, in their universe?
BM: In the Lower East Side? That's a good question. I reckon they probably got a regular gig now. Like, at a Chinese restaurant.
Photo courtesy Disney