Bret McKenzie Interview On Winning an Oscar
Bret McKenzie Says He Can't Wait to Play His "Oscar Card" to Flight of the Conchords Buddy Jemaine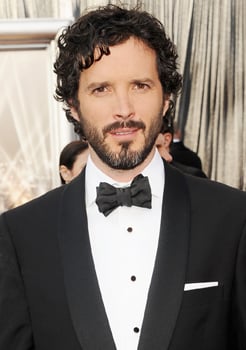 We've loved Bret McKenzie ever since his Flight of the Conchords days, and we were so excited to see him take home an Oscar tonight for his original song from The Muppets. McKenzie shared his giddiness with us back in the press room, where he talked about the inspiration behind his song "Man or Muppet," and how he can't wait to rub his Oscar in Jemaine Clement's face.
On being an artist from New Zealand: Well, it's a great place to grow up. You can do whatever you want there. Where in America everyone is obsessed with their careers, in New Zealand you get to live your dreams.
On how the Oscar will affect his work with Flight of the Conchords: I'm looking forward to writing with Jemaine [Clement] in the future again. Because I'll be able to pull out the Oscar card and say "Mmm, I think we should use this chord . . ." and "I won an Oscar!"
On why the song deserved to win: I think it was one of those musical numbers where everyone did a great job. James Bobin, the director, did such a great job with the video. Jason Segel went very deep both with the recording and on screen. It was one of those things that fell into place very easily.
On what he wants to do next: I want to see if I can collaborate with Chris Cooper to do a full-length rap album.
On whether or not he felt pressure to write a song for The Muppets: I absolutely do. A friend of mine said, when I got the job of working on the film, "You'll never write another 'Rainbow Connection.'" And I said, "You're right." And I didn't. "Rainbow Connection" didn't win an Oscar, but there's no doubt that their song is an absolutely timeless classic, and this song is nothing in comparison.
On how he was influenced by Jim Henson: In the '80s, when I was at home a lot watching TV, my dad one day brought home a video recorder. No one else had one, so it was pretty exciting. But he only had two video cassettes, and one was The Dark Crystal. So my brother and I watched that movie at least twice a week for about five years. Definitely, Jim Henson influenced me. He's a huge inspiration and the other thing I love about the guy is he made children's films that I think he found funny. He was making them for adults. He didn't patronize the minds of children.
On whether he prefers "Man or Muppet" or "Life's a Happy Song": I think this one is more successful in the world of the movie, because it's when the characters deal with that age-old crisis: "Am I a man or a muppet?" But that other one, that's annoyingly catchy.