The Bridesmaids Cast on Male Strippers and a Possible Sequel
The Bridesmaids Team Talks Male Strippers and a Potential Sequel
Several of the ladies from Bridesmaids and two of the guys behind the scenes — director Paul Feig and producer Judd Apatow — stopped by the press room after picking up their award for best comedy at tonight's Critics' Choice Awards. Kristen Wiig wasn't on hand to join her costars, but her writing partner Annie Mumolo got a moment in the spotlight as the group stopped to chat with reporters backstage. The team, which also included Maya Rudolph, Ellie Kemper, and Wendi McLendon-Covey, addressed rumors of a Bridesmaids 2 and dished on a bonding trip the women took to a male strip club. Judd kicked things off by giving one reporter a friendly ribbing when he asked if the cast ad-libbed on set.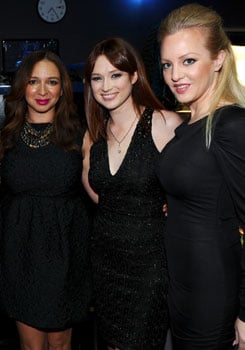 Judd on a possible sequel: "Bridesmaids 2! Now we're getting to the meat of this. Will we ad lib on Bridesmaids 2? No. We will consider it. We'll have some meetings and see if we can afford it. Bridesmaids 2. I mean, maybe if we come up with an amazing idea . . . . Well, we're busy right now writing Caddyshack 3."
Maya on her reaction to the win: "I feel pretty fantastic. I don't think anyone behind me that's looking at my butt right now would disagree, because the truth is, this movie is indeed special. So the way people have responded to this movie was above and beyond our expectations . . . We all love each other and each others' work a lot and we all know how deserving the other person is."
Annie on the cast's visit to a male strip club: "Kristen had a say in that as well, but yeah, we just thought it would be a good place to kind of break the ice, get people loose, and it's funny, because people really did come out of their shells when the men came out and took off their clothes. There were lots of theme attires, and oil, and rubbing. There was rubbing."