Brooklyn Nine-Nine Pilot Review
Pilot Scoop: Brooklyn Nine-Nine
New TV shows are rolling out this month, and one of the most promising new comedies is premiering tonight: Brooklyn Nine-Nine, which has Andy Samberg and Andre Braugher in the leading roles, and it comes from Parks and Recreation creator Mike Schur. Read up on this show before you watch tonight, and find out why it might be one to keep an eye on.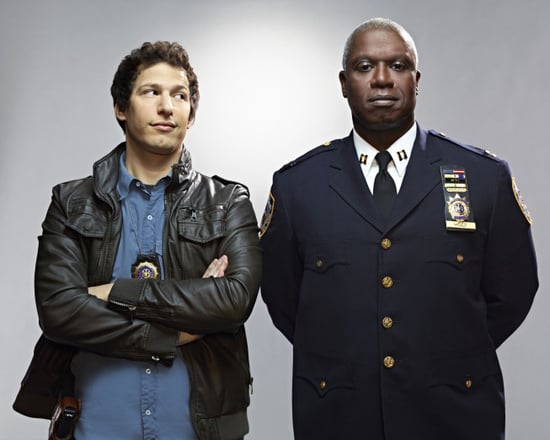 What it's about: It's a workplace comedy that takes place in a Brooklyn police precinct. Jake (Samberg) leads the group of co-workers who range from superquirky to tough as nails.
Where it works: Seeing Samberg in a sitcom is downright delightful. Jake is goofy enough to produce big laughs but is still believable as a successful detective. Samberg actually benefits from being slightly more reined in than he was on SNL; he's just as funny and even more charming playing a regular guy than an over-the-top character.
Where it doesn't: While some of the supporting characters work, like Braugher as the intimidating new captain of the police force and Melissa Fumero as Jake's love interest/rival, a lot of the other faces around the police station are too cartoony. I'm hoping the writers will develop these characters more after the pilot — or at least make them a little less dim-witted.
You might like this show if: You feel like SNL has had a gaping hole in it since Samberg left.
When it's on: Tuesdays at 8:30 p.m. on Fox
Watch a preview of Brooklyn Nine-Nine when you read more.