Buried Movie Review Starring Ryan Reynolds 2010-09-24 07:30:00
Buried: Worth the Emotional Toll
Though I enjoy an escapist popcorn movie, there's something to be said for a film that doesn't let you escape. I'm talking about the movies that capture you, hold you hostage, and leave you rattled for an indeterminate amount of time afterward. This is the impact of Buried, which stars one solitary but capable actor: Ryan Reynolds. The effect the film has on the viewer mirrors the plight of his character, Paul Conroy. As a contracted truck driver in Iraq, Paul awakens inside a box after having been attacked and kidnapped by local, hostile forces.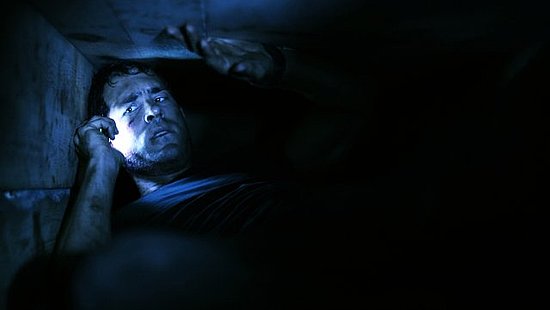 It's every claustrophobe's worst nightmare: he's been buried alive. However, his fate hasn't been sealed yet, and Paul has a fighting chance of getting out of his coffin. With a small amount of supplies (a cell phone and a couple of light sources), he's able to negotiate with his captor for his release and simultaneously try to reach resources on the outside who can help him.
To clarify: yes, you are spending a solid, unrelenting 90 minutes inside the box with Reynolds, with no flashbacks or any other kind of cinematic break you might imagine. Though I realize that Buried may sound both stressful (it is) and boring (it's not), I'll tell you why it's worth enduring when you read more.
The success of this very traumatic film is almost wholly dependent on Reynolds. It's the most demanding role I've ever seen him in (really, it's the most demanding role I've seen for any actor), but he nails it with unexpected range. It may seem trite to call a film like this entertaining, but it is. You're not simply riveted by Paul's situation, and sympathy is not the singular emotion you feel for him. You'll be surprised to find that there are scenes where Reynolds even makes you laugh in his impossible circumstances. It's not an easy feat, but it's a welcome distraction from the white-knuckle tension that dominates most of the scenes.
It's those rare moments of divergence that save the movie from being a one-dimensional thriller. Likewise, director Rodrigo Cortes deserves accolades as well. Clearly and positively influenced by Alfred Hitchcock, Cortes's perspective and creative cinematography provide the extra amount of support to prevent Buried from being simplified as a horror flick.
The movie may take a certain psychological toll on you; it's haunting, and will continue challenging you long after you've left the theater. But I encourage you to let it: it's a rare experience you won't find with most other films.