Burlesque Movie Review, Starring Christina Aguilera and Cher 2010-11-24 05:30:00
Burlesque: Sparkles Can't Outshine the Clichés
From the moment she belts out her first note, Christina Aguilera owns Burlesque. Her big voice echoes as she shimmies through each song and dance number while coquettishly winking at the camera. I'd even go so far as to call her hypnotic. If Burlesque was just an Aguilera stage show, it would be completely satisfying. Unfortunately, movies require actual plot and dialogue and when it comes to both, the film leaves much to be desired.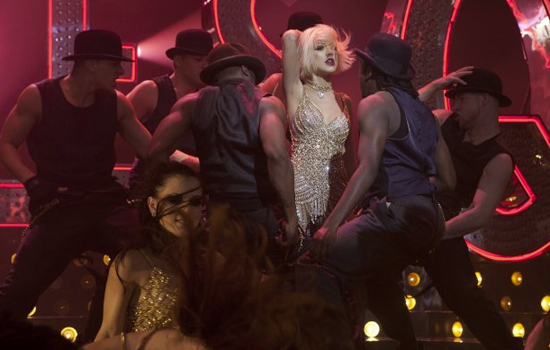 Burlesque starts the same way as most small-town girl stories: Aguilera plays Ali, a waitress in Iowa with dreams of moving to Los Angeles. She buys a one-way ticket, moves into a rickety motel (the kind that's so shady you apparently have to hide your money in the toilet), and scouts the newspaper for random jobs. That's when she spots a woman in fishnets outside of a local club called Burlesque. Ali is immediately entranced by the glamorous dancers, but to become one of them, she'll have to get the approval of the club's gatekeeper, Tess (Cher).
For more of my thoughts on the film read more.
To win Tess over, Ali starts working as a waitress for the club's bartender, Jack (Cam Gigandet). The two strike up a friendship (with romantic potential of course), while Ali tries to earn a spot in the show. When she finally succeeds, she immediately becomes a threat to the show's train wreck star (Kristen Bell, in mean girl mode), and she catches the lustful eye of a real estate mogul (Eric Dane) looking to buy the club for his own development plans.
Sound like something you've heard before? The hackneyed plot (including Aguilera's trite dancing-on-the-sidewalk montage) would be forgivable if the film's dialogue wasn't so schmaltzy. Several lines elicited audible groans from the audience, and the overdone soft lighting doesn't help either. An angelic glow seems to emanate from Ali and Tess everywhere they turn: low-lit offices, dark parking lots, back alleys. It's like airbrushing, giving their faces a faux sheen.
Most people will see this movie for mindless entertainment (and perhaps for a good laugh, even if it is unintentional). It delivers on that for the most part. In fact, many of the actors turn in solid performances, especially Stanley Tucci who makes even the worst lines sound fresh and funny as Tess's confidante and the club's costumer. But Burlesque is what it is: cheesy razzmatazz. That may not earn it accolades, but like Glitter or Coyote Ugly before it, it could very well find its place among cult favorites.