Butter Movie Review
Butter: Tasteless Jokes and a Plot That Slips
Here's something I didn't think I'd ever say: I wish Jennifer Garner's new movie had a bigger emphasis on butter carving. The hook to her satiric comedy, adequately titled Butter, is that the story focuses on the world of competitive butter sculpting. (This is a real thing.) It's a realm that hasn't been explored much on the big screen (if at all), but unfortunately, the carving competitions are just the background for a lackluster story.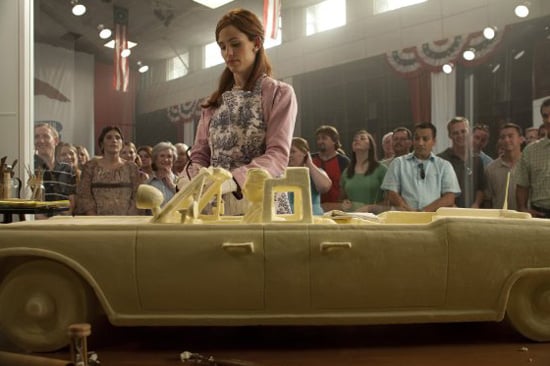 Garner plays Laura Pickler, the intensely type-A wife (think Election's Tracy Flick, all grown up) of reigning butter sculpture champ Bob (Ty Burrell). Laura relishes the attention she receives from being his better half, and when Bob drops out of the upcoming competition, she takes it upon herself to learn the ropes of the biz and continue the Pickler legacy. Enter Brooke (Olivia Wilde), a bicycle-riding prostitute who decides to compete against Laura after Bob fails to pay her for a romp in his van. As if that's not enough, Laura has to worry about taking down Destiny (Yara Shahidi), a talented foster kid poised to become the next butter-carving prodigy. It's a lot of pressure for one lady to deal with, but Garner's aggressive portrayal of Laura won't have you aching with sympathy for the woman. To find out what else I thought about Butter, read more.
Garner's performance as the uptight "first lady" of butter is over the top, and not in a good way. It's not that Laura is just unlikeable; she spews out racist comments regularly with the kind of intensity that hints at rage boiling just under the surface. Laura's blatantly ignorant remarks are meant to shock, but they evoke little more than cheap laughs. In contrast, newcomer Shahidi gives an enjoyably subtle performance as Destiny. Wilde is also a delight as the lucite-heel-wearing stripper stubbornly hovering over the Pickler family like a fishnetted plague. Though her character gets taken to a cringe-worthy level, Wilde is ever entertaining.
Despite these highlights, there's something unavoidably labored about Butter. The dialogue tries too hard, and the main character, until the very end, is kind of excruciating to watch. The real star of the show is the butter; the elaborate molds of The Last Supper and Schindler's List are astounding. It's a bizarre world I would have liked to see more of. While not a total bust, Butter spreads itself far too thin.