Buzz In: What TV Couples Should Get Married?
Tonight there's going to be a lot of celebrating happening on The CW. First, Cate and Ryan will (or won't?) finally tie the knot on the season finale of Life Unexpected. Then, we'll all get to see Dorota walk down the aisle on Gossip Girl. Sure, neither of these nuptials is as epic as, say, Jim and Pam's, but I always love a good TV wedding.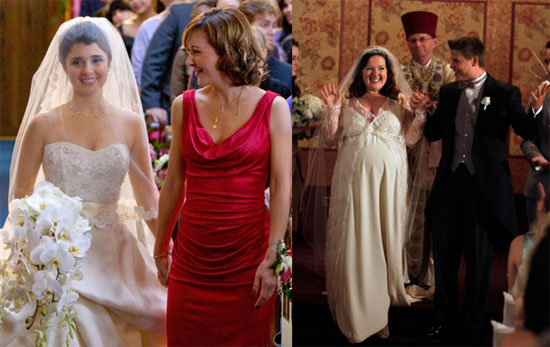 Spring and season finales usually bring at least one or two big days, whether it's a post-it marriage on Grey's Anatomy or Hilda's tear-jerking matrimony on Ugly Betty last week. It's got me thinking about other TV couples that I'd love to see walk down the aisle. Like Chuck and Sarah on Chuck (even if it's a little soon for that), or someday Ted and the elusive mother on How I Met Your Mother. Is it too early to start fantasizing about Mr. Schue's second wedding to Emma on Glee? Just think of the musical possibilities. What weddings would you like to see?
Photos courtesy of The CW