Buzz In: Which TV Characters Frustrate You?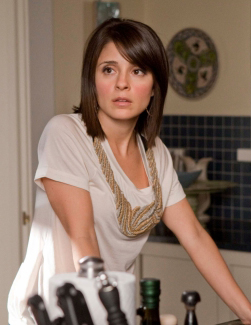 This week's episode of Life Unexpected allows Cate to dispense some motherly advice to her newfound daughter, Lux: either tell her boyfriend the truth about another guy or deal with losing trust in the relationship. Though Lux follows her sage words, Cate fails to take her own advice and proceeds to lie — twice! — to her fiance, Ryan, about her recent one-night stand with Baze.
Though Shiri Appleby's Cate is someone I usually like, her behavior in this episode is so appalling that she made the list of TV characters that frustrate me. Hopefully she wakes up and rights her wrong soon, because I've already got a few too many folks on my list.
Currently, Serena's many men dilemmas on Gossip Girl make her almost unwatchable, and I haven't been missing Izzie's annoying antics on Grey's Anatomy. And I feel bad saying it, but over the years, Lost's good doctor Jack is someone who's consistently made me grimace at my TV.
Is there anyone on your favorite shows that you want to like, but their actions make it impossible?
Photo courtesy of The CW