CBS Fall Lineup 2013
CBS Fall Schedule: New Comedy Is King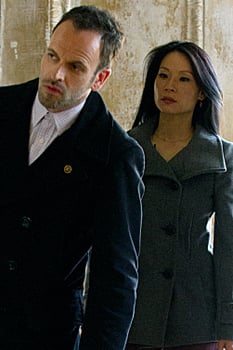 Following in the footsteps of NBC, Fox, and ABC, CBS is the fourth network to unveil its Fall schedule during this week's upfronts. It's introducing five (out of eight) new shows this Fall, three of which will start out the week on Monday nights, in between established comedies How I Met Your Mother (in its last season) and 2 Broke Girls. The network is also bringing two new comedies to Thursday nights, featuring Robin Williams, Sarah Michelle Gellar, and Will Arnett.
CBS has also moved Hawaii Five-0 to Fridays and stacked Person of Interest after NCIS and NCIS: Los Angeles on Tuesday evenings. Stay tuned to find out when the network's three midseason shows will be scheduled.
Peruse the whole schedule when you read more.
*New show
MONDAY
8:00-8:30 p.m. — How I Met Your Mother
8:30-9:00 p.m. — We Are Men*
9:00-9:30 p.m. — 2 Broke Girls
9:30-10:00 p.m. — Mom*
10:00-11:00 p.m. — Hostages*
TUESDAY
8:00-9:00 p.m. — NCIS
9:00-10:00 p.m. — NCIS: Los Angeles
10:00-11:00 p.m. — Person of Interest
WEDNESDAY
8:00-9:00 p.m. — Survivor
9:00-10:00 p.m. — Criminal Minds
10:00-11:00 p.m. — CSI: Crime Scene Investigation
THURSDAY
8:00-8:30 p.m. — The Big Bang Theory
8:30-9:00 p.m. — The Millers*
9:00-9:30 p.m. — The Crazy Ones*
9:30-10:00 p.m. — Two and a Half Men
10:00-11:00 p.m. — Elementary
FRIDAY
8:00-9:00 p.m. — Undercover Boss
9:00-10:00 p.m. — Hawaii Five-0
10:00-11:00 p.m. — Blue Bloods
SATURDAY
8:00-8:30 p.m. — Comedytime Saturday
8:30-9:00 p.m. — Comedytime Saturday
9:00-10:00 p.m. — Crimetime Saturday
10:00-11:00 p.m. — 48 Hours Mystery
SUNDAY
7:00-8:00 p.m. — 60 Minutes
8:00-9:00 p.m. — The Amazing Race
9:00-10:00 p.m. — The Good Wife
10:00-11:00 p.m. — The Mentalist
MIDSEASON
Intelligence*
Reckless*
Friends With Better Lives*