The CW New Show Arrow Based on Green Arrow
How The CW's Arrow Will Give You Your Superhero Fix
Who needs to wait years for a new superhero movie to come out? Not TV fans, because The CW is bringing a bit of the comic book world to primetime. In the vein of the long-running series Smallville, Arrow tells the origin story of a famous DC Comics character, the Green Arrow. Stephen Amell plays the lead on the show, which is about a party boy who goes missing for a few years and then returns as a masked vigilante. He came to TCA today with his costar Katie Cassidy and the showrunners to talk about the comic book origins, the high-octane action, and his mysterious character. There were lots of movie references bouncing around, which made me feel like Arrow may be our small-screen answer to big-screen superheroes. Here's why: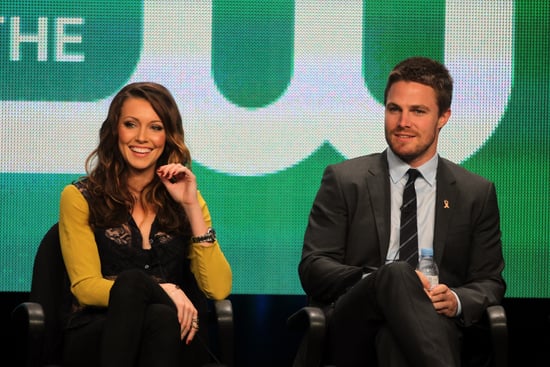 The lead actor has movie star good looks and acting chops. Amell plays Oliver Queen, an irresponsible playboy who gets taken to an island and then comes back as a killing machine known as Arrow. Amell talked about how there are so many different sides to Oliver that it keeps him on his toes, but it's not just going to be a superhero show where Arrow is fighting crime. "Oliver clearly has posttraumatic stress disorder," he said, adding that we'll get into that, which demands a good actor. The showrunners think Amell has the ability, with executive producer Greg Berlanti saying that Amell was the first one to audition for the role, and that after him, "everyone else paled by comparison." Fellow EP Andrew Kreisberg agreed, saying that Amell is an "unbelievably talented actor."
The show will be full of action. There are awesome stunts in the pilot, which is to be expected since the hero's trademark weapon is a bow and arrow — pop culture's current trendy weapon. To that point, Amell said that his training started with a 45-minute video illustrating all the ways that archery has been done wrong in film and TV. But there's far more than archery on Arrow, and Amell has been training like crazy for the show's stunts, finding "muscles I didn't know existed." Berlanti says the show is "consistently athletic," and that it's "a little frightening" when your lead does so much stunt work.
Find out more about why Arrow is so promising after the jump.
We may see more comic book lore: Cassidy plays Oliver's ex-girlfriend Laurel, whose full name is

Dinah

Laurel Lance, who, in the comic books, becomes Black Canary. When a reporter asked if there's any possibility that Laurel will turn into Black Canary on the show, Cassidy deflected the question to executive producer Marc Guggenheim, who answered "maybe." Sounds promising to me!
It follows in the grand superhero movie tradition of rebooting a character: A reporter brought up the fact that Smallville also had an Arrow/Oliver Queen character (played by Justin Hartley, who stars in The CW's pilot for Emily Owens, M.D.). Guggenheim said that audiences these days are savvy enough to know there are multiple iterations of a character, citing Batman and Spider-Man and saying that loving "Michael Keaton doesn't affect your love for Christian Bale."
It had an Oscar winner help behind the scenes: Academy Award-winning costume designer Colleen Atwood collaborated on Arrow's costume, after the producers called her up and asked for her help. She also got to see the pilot, which Berlanti reported she liked.