The Campaign DVD Release Date
What to Rent: New DVDs This Week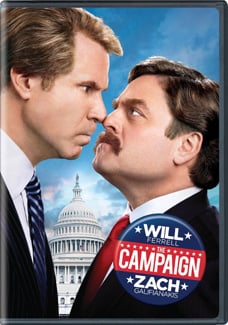 Will Ferrell and Zach Galifianakis square off as a couple of dim-witted candidates in the political ring in The Campaign. Cam Brady (Ferrell) is set for another term as a congressman, but he gets some unexpected competition when small-town guy Marty Huggins (Galifianakis) is persuaded to run against him — but soon gets in over his head. Over-the-top hijinks abound when the two set out on the campaign trail. Though the leads are great performers independently, this movie doesn't quite live up to its comedic potential. The DVD comes with a gag reel, deleted scenes, and an improvisation roll.

66%
A pair of journalists (Aubrey Plaza and Jake Johnson) investigate an ad in the newspaper seeking a companion for time travel. They discover the man on the other end of it, a strange and paranoid supermarket clerk (Mark Duplass) who is genuinely hoping to find someone to travel with. Though the journalists begin with skepticism, their opinions change as they observe the man. Plaza balances her trademark sardonic wit with endearing sensitivity, while Johnson gives a sophisticated performance as well. Extras include two featurettes about the making of the movie.

94%
One more new release when you read more.
Zoe Kazan (who wrote the script) is Ruby Sparks, a character from Calvin's (Paul Dano) imagination who suddenly appears as a living girl. Not just that, but she's his ideal girlfriend and the embodiment of everything the young novelist has written. Once he accepts the reality that she now exists, he begins to tinker with her, writing more details to see if they'll be fulfilled. As he alters Ruby, he discovers surprising limitations in the clever film. The DVD copy comes with five film featurettes.

79%