The Cape 2011 Winter TCA Panel Quotes and Pics
How New NBC's The Cape "Pushes the Limits"
NBC's new superhero drama The Cape flew into the Winter TCA today with showrunners and stars like David Lyons, James Frain, and Summer Glau eager to talk about the midseason TV offering. They talked scary stunts, guest stars, and who the show will appeal to.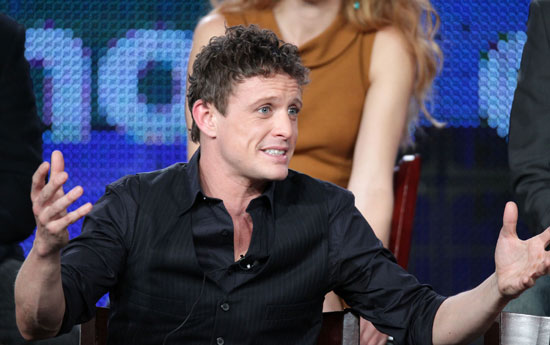 Australian actor Lyons describes his reluctant superhero character Vince Faraday as "the archetypal good guy." In his alter ego, The Cape, Lyons gets to do lots of stunts, but it doesn't always go well. He didn't know the answer to how far he's jumped as his character so far, because he had to correct the question, saying it should be, "How far have you jumped successfully?" But it's still a good time; Lyons said, "We're pushing the limits, and it's a lot of fun to do."
Summer Glau was asked about her status as a "fanboy's pinup," and she said that it makes her feel supported. "I don't want that love to go away." As for her role as the mysterious Orwell on The Cape, Glau said the part has forced to grow because it's "more sophisticated, more complicated." While Orwell's backstory is still an enigma, Glau says that in every episode, "we find out more of what she's capable of."
One of the upcoming guest stars is Mena Suvari, which star Vinnie Jones mentioned — because she's a friend of his. In addition to her, another guest we can expect is veteran actor Elliott Gould.
Executive producer John Wirth says that it's a compliment to be compared to a comic book, but that you don't have to be into that genre to like The Cape. Fellow producer Tom Wheeler says it has a lot of audience appeal, including "families to fanboys to the works" for its inclusion of romance, suspense and mystery, while also being "wonderfully scary and intense."
So, is there anything the magic cape can't do? "You can't do needlework with a cape," Lyons joked.
Keep coming back to BuzzSugar for more Winter TCA updates!