Captain Phillips Review
An Excellent Tom Hanks Anchors the Insanely Tense Captain Phillips
We've seen plenty of unforgettable characters from Tom Hanks over the course of his career, and the Oscar winner gives another fantastic performance in Captain Phillips. Of course, he does have some pretty amazing inspiration: the film is based on the true story of Captain Richard Phillips, the real-life cargo ship captain whose vessel, the Maersk Alabama, was seized by Somali pirates off the coast of Africa in 2009. The real story is unbelievable enough, but by focusing so tightly on the unfolding of Phillips's ordeal, director Paul Greengrass elevates Captain Phillips above ordinary biopic fare. Greengrass has created a thriller so tense, you might find your knuckles have turned completely white by the movie's end.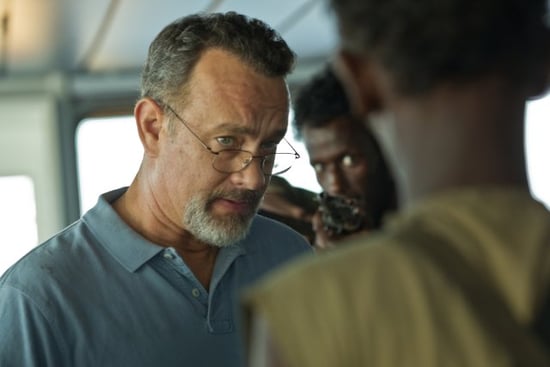 The Captain and his crew are en route to Mombasa, Kenya, when Phillips notices two unknown crafts sidling up to his ship. What begins as a hijacking turns into a hostage situation, eventually forcing a standoff between the pirates and the US Navy so anxiety-inducing that you can practically smell the sweat. Hanks is terrific, but he's not the only one doing the heavy lifting. Find out what makes Captain Phillips so special when you read more.
What's great about the main character is that Greengrass doesn't use Hanks's charm to make the Captain a likable hero. As a boss, Phillips isn't going to win Mr. Congeniality any time soon, but he would sacrifice his life for any of his crew members in an instant. He's smart and courageous, but by the end of the film, he's shirtless, scarred, and shaking. It's his humanity that makes his bravery so impressive.
Greengrass also strikes a fine balance with the pirates, played remarkably by four first-time actors, and led by the hotheaded Muse (Barkhad Abdi). Obviously the machine-gun-carrying Somalis are the aggressors, but we see multiple dimensions from the start when we meet them in their impoverished town. By avoiding the pitfalls of stereotypes, we're able to see them as more than villains: scared kids out of options.
Rest assured: knowing the outcome of the story won't reduce even a notch of the tension. Phillips is essentially living out a nightmare, and whether he's in that big ship or trapped in a tiny lifeboat, you're so close to him that it becomes your nightmare, too.