Casey Abrams Saved From Elimination on American Idol
American Idol: Did the Judges Make the Right Decision?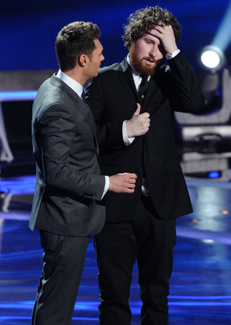 Wow! This week's American Idol elimination night wasn't shocking because of who went home — it was shocking because no one did. Casey Abrams, Stefano Langone, and Thia Megia found themselves in the bottom three after Motown night, and surprisingly, it was Casey with the lowest amount of votes. But Casey didn't have to sweat for very long: when he was brought out to sing for his life, Randy interrupted his song to tell him that the judges were saving him, and the guy nearly had a nervous breakdown.
With Casey still in the game, no one was kicked off, which means that next week's elimination will be ultra-dramatic because two people will have to go home. Making Casey's bailout even more controversial is the fact that this is the earliest point in any season that the judges have used their save. So, with that in mind, vote now — did the judges make the right call in keeping Casey?
Photo courtesy of Fox