Casey Abrams Voted Off American Idol
Was the Right Contestant Voted Off American Idol?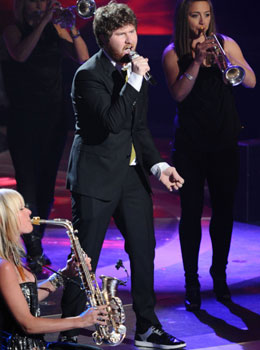 With only six left in the American Idol competition, the elimination rounds are getting more exciting than ever. The girls managed to stick it out for another week (which is a huge testament to Haley who spent her fair share of time in the bottom three earlier this season). It was no surprise either that James scooted on to the next round, after the judges practically declared him the winner on Wednesday night. That left Jacob, Scotty, and Casey in the lurch. Once Jacob was ushered to safety, Ryan announced that Casey was going home — and this time, there was no lifesaver to give him another chance. Do you agree with this week's elimination?
Photo courtesy of Fox