Cast of Anchorman Sings "Afternoon Delight" 2013
The Anchorman Cast Revives "Afternoon Delight"
Anchorman: The Legend Continues is so hot right now, and the cast's latest stunt is a true delight. While Ferrell and the crew were hamming it up onstage, Taylor Swift was rubbing shoulders with Prince William, and yet another "Wrecking Ball" parody had us — and lots of others — cracking up. Check out the web's latest hits, and get prepared to laugh.
The Cast of Anchorman Sings "Afternoon Delight"
Ron Burgundy (Will Ferrell) and the rest of his news crew from Anchorman: The Legend Continues surprised fans during the film's Sydney premiere with a special rendition of "Afternoon Delight." The cast first sang the Starland Vocal Band tune in the original film, and they've just gotten better with age.
Taylor Swift's Double High-Five With Prince William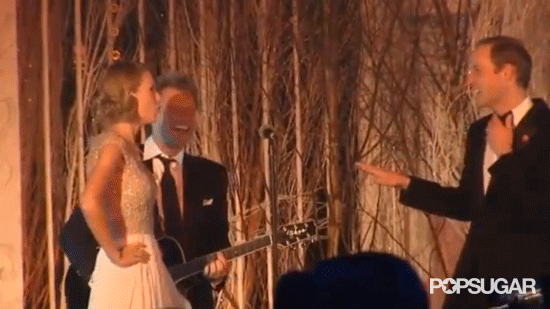 Not only did Taylor Swift high-five Prince William during the Winter Whites Gala at Kensington Palace in London, she sang "Livin' on a Prayer" with him and Jon Bon Jovi!
"Wrecking Ball" Chatroulette
Chatroulette star Steve Kardynal did his best take on Miley Cyrus's "Wrecking Ball" for strangers on the site, prompting people to laugh and stare wide-eyed — but mostly sing along. It's the Internet at its weird, ridiculous finest.
For more funny videos and pictures, just keep reading.
The Onion's Catching Fire Review
Taking the film's most serious issues into consideration, The Onion examined Catching Fire for its latest film review. In talking about Katniss's real struggle, the love triangle, it's put simply: "If Gale is a 10, then Peeta is only, like, a six. Maybe he's a seven when he has shorter hair."
An Arena Dance-Off
Eleven-year-old Antwain Alexander had Pistons fans cheering when he was featured on the dance cam during the team's game against the New York Knicks. As the cameraman cut between Antwain and Shannon Sailes, an usher who's known to dance in the aisles, the pair got caught up in one awesome dance-off.
Seth Rogen

and

James Franco

's Kanye Parody

On the heels of Kanye West's "Bound 2" music video starring his fiancée, Kim Kardashian, funny guys Seth Rogen and James Franco did their own version of the video — a shot-by-shot parody called "Bound 3." Kim approved, tweeting, "You nailed it!!! Sooo funny!"
Josh Hutcherson on SNL
Josh Hutcherson's Saturday Night Live monologue featured none other than Effie Trinket, played by Kate McKinnon. SNL decided to host its own competition, and Josh handled it perfectly.
The Boys' Take on "Work B**ch"
The Boys of Boston flag football team did their own take of Britney Spears's "Work B**ch," choreographed dance moves and all. Pretty fierce!