Cast For Garry Marshall's New Year's Eve Movie, Including Ashton Kutcher, Lea Michele, Robert De Niro, and Hilary Swank
Garry Marshall's New Year's Eve Attracts Big Names
If you thought Valentine's Day lined up quite the star-studded ensemble, then wait until you see the list of growing names for its follow-up, New Year's Eve. Garry Marshall has tapped several A-listers for the ensemble romantic comedy. Glee's Lea Michele and Abigail Breslin have already signed on to the film, but now Robert De Niro, Michelle Pfeiffer, Hilary Swank, and Ashton Kutcher are reportedly circling parts as well.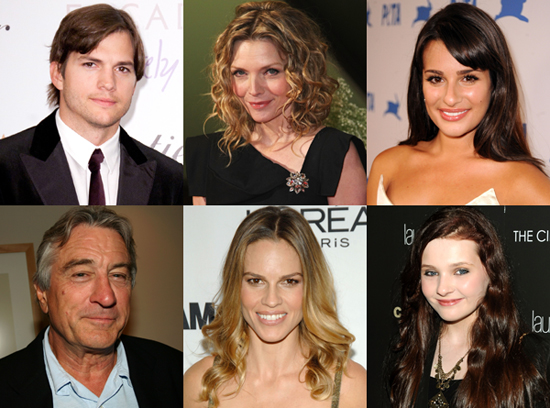 Here's a quick breakdown of the new roles:
De Niro will play a man dying in a hospital.
Pfeiffer is a secretary with unfulfilled New Year's resolutions to tackle.
Swank will step in as a producer of the Times Square ball drop.
Kutcher is a guy who hates New Year's Eve (so I'm guessing he won't be reprising his role as the Valentine's Day's florist?).
While there's no word on Michele or Breslin's parts, my guess is Breslin will be fulfilling the film's puppy love requirement, much like Emma Roberts did in the first film.
What are your thoughts on this ensemble? I'm sure we'll be seeing more names come in as other roles are assigned, but I can't wait to see which actors get paired off as couples. Perhaps Lea and Ashton could even share some romantic screen time!