Cedar Rapids Star Ed Helms Talks About The Office, Barack Obama, and More
Cedar Rapids's Ed Helms Talks Nude Scenes, Naiveté, and His Start in TV
Ed Helms was the center of attention at a press conference in NYC for his new movie Cedar Rapids this week in NYC, where his costar Alia Shawkat revealed her hopes for the Arrested Development movie. He and Shawkat both went to Sundance to debut the film, which sees Ed playing the lead role of naive insurance salesman Tim Lippe on a whirlwind weekend in the titular city. Ed spoke about the compassion he has for the character, discussed his semi-nude scenes, and revealed his debt to Jon Stewart for discovering him for The Daily Show. Here's more: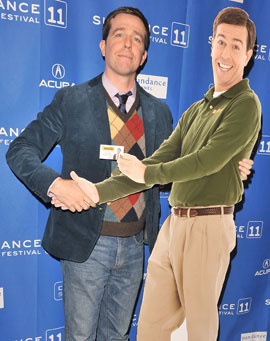 On nude scenes being a challenge: "Why would that be a challenge? What's the challenging part? . . . I believe that as a comedy actor dignity and pride get in the way. So you really have to start from a place of, 'I'll do anything.' That said, we wrestled with the studio for some time over the specifics of my nudity waiver in my contract."
On his previous experience with the insurance industry: "I was in a fender-bender when I was 16 years old. It wasn't even a fender-bender because there was no damage, it was like a little dink on a bumper. I got a letter from the insurance company — the victim's insurance company or her lawyer — it was like an episode of The

Brady

Bunch. She showed up at the courtroom in a neck brace. I'm freaked out by auto insurance issues. My dad was also a lawyer who consulted with insurance companies, so he always says, 'Come on! The insurance are the good guys!' Of course he's being sarcastic, but in the movie Tim Lippe really believes that."
On a start on TV with The Daily Show: "It 100% put me on the map. It's actually what I always wanted to do, comedy television. I got into this like a lot of comedy nerds through a bizarre fanaticism with SNL. I'm just grateful to Jon Stewart for kind of plucking me out of nowhere and letting me be silly."
To read what Ed says about sharing a room with the President and his character Tim, just
.
On being like his naive character: "It's really fun to get into a character like that because for me I guess there is some ideal — he's kind of the last idealist and so un-jaded and so un-cynical, and so it's a bit of fantasy fulfillment to step into that role and pretend that I'm that type of guy. I'm not like that at all. I'm a deeply jaded, cynical person, and I think the world we live in is for the most part pretty corrupt and degenerate. It's exciting and it just sparks something in my core that's still a little hopeful for mankind. If we could all just be a little more like Tim Lippe maybe the world would be a better place."
On not condescending to the simple character: "It was always about coming from a place of affection for these characters. As far as I approached portraying that, I think it was really just a matter of trying to go for his earnestness and how much he believes in these values as stunted as they were. . . I do share with him a sense of wonder about the world. I don't feel like I ever understand what's going on around me. I don't understand why people behave the way they do, I don't understand how this building got here!"
On who he'd share a room with if he could pick anyone: "For me, it would be probably Barack Obama. I think he'd be incredibly interesting and we'd have some late night chats. . . and that would be really fun. He seems like a pleasant enough guy to have around in small spaces. The Secret Service might get in the way."