Celeste and Jesse Forever Movie Review Sundance
Sundance Snapshot: Rashida Jones and Andy Samberg Are Adorable in Celeste and Jesse Forever
Celeste and Jesse Forever was one of the first films I checked out at Sundance this year, and I'm so glad I did. The cast, which features Rashida Jones and Andy Samberg as the titular characters, was enough to pique my interest, but the smart, relatable, script is what won me over. Here's more on what I thought of the film.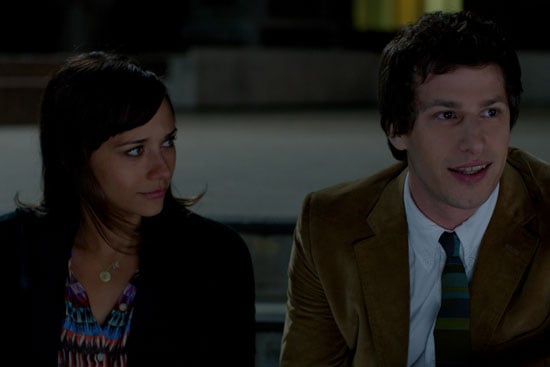 Who's behind it? The film stars Andy Samberg, Rashida Jones (who also cowrote the screenplay), Ari Graynor, Elijah Wood, and Emma Roberts. It was directed by Lee Toland Krieger.
What's it about? Jones and Samberg are Celeste and Jesse, high school sweethearts who have recently decided to separate. The only problem is that they're still BFF: he's living in her guest house, they're still spending all of their time together, and are still living in their own little world (much to the confusion of their circle of friends). Though it's clear that they're not ready to fully let go of each other, an unexpected circumstance forces them both to confront their feelings and make a final decision about their relationship.
What did I think? This movie made me laugh and broke my heart, thanks to Jones and Samberg's chemistry and performances. There are plenty of amazing jokes and one-liners, but more than that, there's a very real story and commentary about how hard it is to let go of someone you love. Jesse and Celeste are so easy to root for, but the film is careful to keep the story real rather than veering into romantic comedy territory. It's also a breakout role for Samberg, who we've mostly only seen doing straight comedy. He's still a lovable goofball here, but he also proves that he's got the chops to handle more serious material. The film was bought by Sony Pictures Classics, so keep an eye out for it in theaters in the next year.