Celeste and Jesse Forever Review
4 Reasons You Might Love Celeste and Jesse Forever
Rashida Jones and Andy Samberg play the title characters in indie dramedy Celeste and Jesse Forever, who are a divorcing couple who want to remain friends. They find that it's tough to move on with other people while they hang on to each other, and their friends have a difficult time even understanding their relationship. Jones stars in and cowrote the movie, and her hard work has paid off in the form of a sweet, funny gem about the reality of relationships and complicated nature of love. I have a few different praises to sing about Celeste and Jesse Forever, which might make you fall for the film too, so read on to find out why I liked it so much.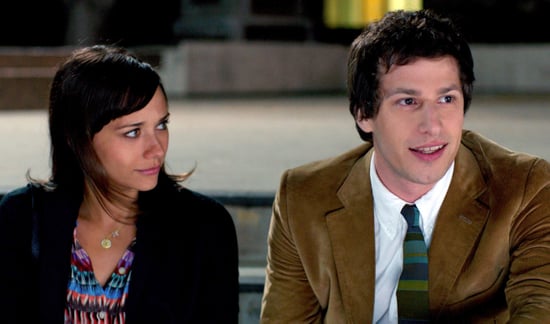 You can relate to it no matter what your relationship status. Though the movie mainly depicts the issues of a broken-up couple, you get to see a wide variety of relationships. Aside from the main characters, Ari Graynor and Eric Christian Olsen play a lovey-dovey engaged couple who are friends with Celeste and Jesse, and when Celeste tries to date, we get an honest (if sometimes rough) look at dating. Whether you're single or coupled, there's probably a familiar scenario in the movie for you.
The soundtrack is fantastic. I haven't been this in love with a soundtrack in years; the film features the kinds of songs that make you sit up and take notice of them without jarring you out of the movie. The roster of artists includes up-and-coming indie bands like Porcelain Raft, and each dreamy tune perfectly complements the tone of each scene.
It spotlights a lot of under-the-radar actors. Samberg and Jones have palpable chemistry and strong scenes, but the eclectic ensemble of supporting characters really make the movie entertaining (and a fun game of Where Have I Seen That Actor Before?). Graynor always makes me laugh, and as Celeste's best friend, she's hilarious, as is her onscreen fiancé, Olsen. But wait, there's more: Chris Messina (who seems to be everywhere these days) also pops up to charm Celeste, while Elijah Wood and Emma Roberts are fun as characters who are occasionally over the top.
You'll have a new reason to crush on Andy Samberg. Fans of the Saturday Night Live star know how funny he is, but Celeste and Jesse Forever showcases how dreamy he is. As a laid-back artist, Jesse is also sensitive and loving, and it's easy to see why Celeste struggles with her feelings for him. The movie has a lot of laughs, but Samberg lets his costars crack more jokes than him while he lets his dramatic side shine.