Chicago Fire TV Show TCA Panel
Chicago Fire: Why It's Not Just Another Procedural
In a market that's saturated with dramas about cops, lawyers, and doctors, NBC is going inside a less-explored profession with Chicago Fire. The cast — which includes Eamonn Walker (Oz), Taylor Kinney (The Vampire Diaries), and Jesse Spencer (House) — spoke about their show at the TCA this week, discussing how they prepared to play firefighters and paramedics and why the writing is the glue that's holding the series together. Here are highlights: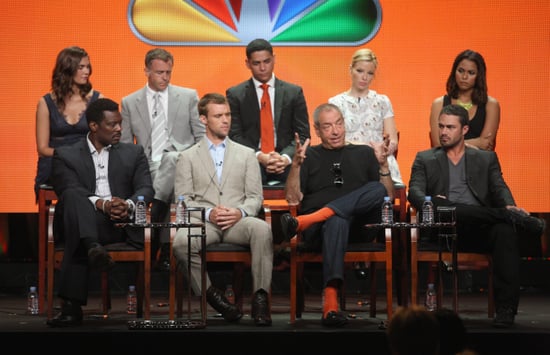 The show is based on an actual firehouse in Chicago, and the cast went through training alongside real-life firefighters, which included going out on trips and spending time in simulation. Kinney talked about the insight he gained from seeing it all firsthand, saying that it's a "brotherhood" that exists between the colleagues and that there was a "jovial" feeling in the firehouse when everyone was just hanging out.
One of the most important aspects of playing a firefighter is approaching it from the inside out. Though society often looks at them as heroes, Spencer noted that it's just a job to the men and women who are actually saving lives. He said, "We call them heroes, but I think that's a very outsider perspective. They don't see themselves as heroes, they're guys, they're gals."
Executive producer Dick Wolf gushed about the show's writing and has a very optimistic outlook on how audiences will respond to the series, comparing it to the likes of Hill Street Blues, ER, and Law & Order. He said, "These shows are never written down to the audience. It all goes back to the writing. There's never been a good show with bad writing."
Wolf also noted that the pilot was screened for firefighters who gave it their stamp of approval, saying they were "kind of blown away."
Walker plays Walter Boden, the chief of the firehouse, and his feeling of being a patriarch extends beyond what's on the screen. He says, "What I really want to say is that I found a family. This my new family. I know they've got my back. That's who Walter Boden is, he's taking care of his family."
To see more pictures from the panel, just read more.