Chris Evans as Captain America Cover of Entertainment Weekly Pics and Quotes 2010-10-28 11:00:05
First Look: Chris Evans as Captain America!
I've been curious to see Chris Evans as Captain America since the big casting decision was announced, and now we get our first look at Evans in his superhero garb on the cover of Entertainment Weekly. Evans talks about accepting the role and reveals he wasn't always gung ho about playing the caped crusader. Here are some highlights from the interview, and you can click over to PopWatch for more.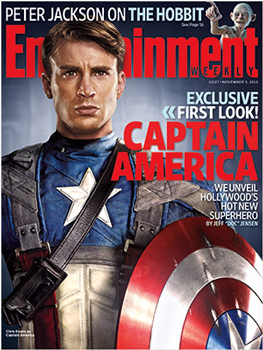 Evans on why he was initially hesitant to take the role:
"I've made some spotty films in the past, and I didn't want another one on this scale."
On wearing the costume:
"When I first put on the suit, I was absolutely terrified. But once I started working, I could just see this was going to be a good experience. Then I started going, 'Wow. This is really cool.' I can't believe I was almost too chicken to play Captain America."
To see a larger version of the Evans on the cover, just read more.