Chris Pratt Interview About Parks and Recreation
Chris Pratt Talks Parks and Rec's "Blessing" of an Emmy Nomination and "Manly" Nick Offerman
Parks and Recreation has such a great ensemble, but Chris Pratt, who plays good-natured musician Andy Dwyer, is one of my favorites in the cast. I had a chance to talk to Pratt about the show and how he makes his character so disarming at the Summer TCA. He also revealed his deep love for Nick Offerman, who plays the already-legendary Ron Swanson, where Andy's relationship with April is going, and his feelings about the show's big Emmy nod for outstanding comedy series.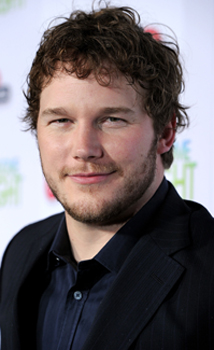 BuzzSugar: What was your reaction to the show's best comedy nomination?
Chris Pratt: Aside from maybe [the fact that] I was really hoping that Nick Offerman would receive a best actor comedy nomination, because I think he really deserves one, I thought that Amy and the show itself were both really deserving, and we were thrilled about it. It's really a team of people in every way; everyone depends on everyone else. We have really great writers, and that makes the form of the comedy, then we have really great performers that step up and elevate the material. We're working really hard, so it's nice. The fact that we almost didn't come back one year and have had half seasons — we weren't getting necessarily a lot of love. But that was really nice to receive some love, so the nomination means a lot. It really means a lot to everybody. We all really love going to work, and still love being around one another, look forward to going back to work . . . It's a great environment. Without a nomination it would still be great, but that was just a really nice blessing on top of it.
Buzz: Besides Nick, who else in the cast impresses you?
CP: There's such a synergy among the cast; it really is greater than the sum of its parts. I can't really single one person out without talking about everybody, but Adam Scott — I tell him all the time that he's a terrific and perfect addition to the cast, as well as Rob Lowe, who's been killing it — Adam Scott is great. He's got a budding love interest storyline with Amy that'll play out for hopefully a long time. Our cast is good at comedy, and he's good at a kind of comedy our cast was missing: understated straight man comedy. He's really funny in real life and really just a terrific actor, and his reactions to some of this crazy stuff going on in the world around him really works. He's like the nerdy straight man. He's not a nerd at all, he's a stud, but he plays such a nerdy straight man, and that was sort of the one thing that was really lacking. That addition to the cast, I think, is what made the show start firing on all cylinders.
Buzz: Like it did in "The Flu Season" episode?
CP: That's maybe my favorite episode. That's a really great episode. The flu storyline was my favorite, because I got to work so closely with Nick Offerman, who is truly my hero. It was a chance for us to just spend time together, and they manifested this B storyline of Ron and Andy hanging out. The episode is really, really funny. It was the perfect amount of story for a half hour. It was really a great example of what makes our show really good.
Buzz: Is Nick like Ron Swanson in real life at all?
CP: I think in many ways he's like Ron Swanson, but in more ways he's different than Ron Swanson, which is a testament to his ability to create a living, breathing character. [Offerman] is not like that; he's not a Libertarian, he doesn't only eat meat. He's a really hard worker, he doesn't pass the buck like Ron Swanson. But Nick is very manly. The wood shop he worked in for one of the episodes in the second season is his real wood shop in real life. All the manliness, all the straight-up man-sauce comes right from who Nick is as a man. He's an extraordinary man.
Keep reading to find out what Pratt thinks he brings to his character and why he thinks Andy and April work so well together.
Buzz: Is there a lot of you in Andy?
CP: I think my heart. My heart is very much in that character, yeah. I think originally he was written to be kind of like a write-off, like a guest star; I was written as a catalyst to get Ann Perkins, Rashida's character, involved in the Parks department. And then from there I think their plan originally was to write this guy out, because there were just no winning qualities about him. Really they kind of did everything they could do in the writing to make sure the character never came back. I lived in a hole, I was an assh*le, I was a slacker, I was kind of mean and undeserving of this beautiful woman, I wanted to be a rock star and thought I was super cool, kept my cast on for two extra weeks so I could have food served to me. And somehow they still found a likability in the character, and they started rewriting things and changed the last three episodes of the first season to kind of cater to more who I am as a person, because I'm not an assh*le.
There are takes somewhere in the ether, or on the cutting room floor, where I played as hard as I could to be an assh*le, and they decided through it to use the stuff that made the character more winning and likable and then started writing the character like that. He's like a puppy dog, you know; he's earnest and naive, but full of love. Kind of one of those guys that can get away with anything, just because at the end of the day, you're like, "Oh, that's Andy."
Buzz: Are April and Andy going to have a thriving marriage?
CP: Yeah, I think they are. They're sort of two polar opposites who love one another. I don't know exactly what the writers are going to do, but I've read three episodes so far and they're just really funny. I don't think they missed a beat, we pick up right we left off. April just sort of loves this big goofy guy, and he just loves her and the fact that somebody like her would appreciate him. That's something that real love is actually based on — in real life, love is based a lot on finding someone who loves you and accepts you. There's nothing more attractive than somebody who just loves you for who you are. Andy doesn't feel like he has to be somebody else around April. He can just be himself, and she loves it. That's a quality about someone that you can't help but fall in love with.