Christian Bale Press Room Quotes at 2011 SAG Awards For The Fighter 2011-01-30 20:16:56
Christian Bale Says Winning a SAG Award on His Birthday Feels "Pretty Freaking Good!"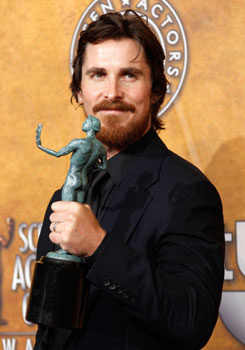 After Christian Bale brought home the SAG award tonight — yet another statue for his supporting actor role in The Fighter — he hit the press room to talk about winning, playing Dicky, and an amazing birthday celebration!
On playing Dicky: "The quiet roles are the hardest ones to be recognized for. [But] This was a loud role — I f**kin' loved it."
On being grateful to his castmates: "Any performance is dependent on everyone else; it's a domino effect, a collective effort. . . to me I share this with all the other actors."
On how it feels to win the award on his birthday: "Pretty freaking good."
On his love for acting: "I got into it early, I would say too early. [But] I had that addiction to it; there's that empathy, getting to walk in other people's shoes. From a psychological perspective, I just find that fascinating."
On what he'd do if he weren't an actor: "Go nuts, probably."
On his respect for boxing: "I think there's that element of people laying themselves on the line. That rawness, that vulnerability, that absolute win, or absolute loss. The struggle — I think that [is something] most people can understand, which is so beautifully played out in boxing."
On other actors that inspire him: "Robert Duvall, one of the finest there's ever been. Gary Oldman, friend of mine, one of the finest as well. Melissa [Leo], Amy [Adams] as well.
Stay tuned for more press room highlights and be sure to vote on all of our SAG winner polls!