Christina Aguilera Interview About Coming Back to The Voice
Christina Aguilera on Returning to The Voice: "I'm Coming Back to the Blake Shelton Show"
Adam Levine, Christina Aguilera, CeeLo Green, and Carson Daly descended on the TCA stage to talk about their recent "family" reunion on the upcoming season of The Voice. The three judges were down one member, as Blake Shelton was out on the road, but that didn't stop them from spilling about their dynamic behind the scenes (Aguilera: "There's another show that happens behind the show that's . . . for another network") and why they don't agree with criticism that their show hasn't launched successful singers.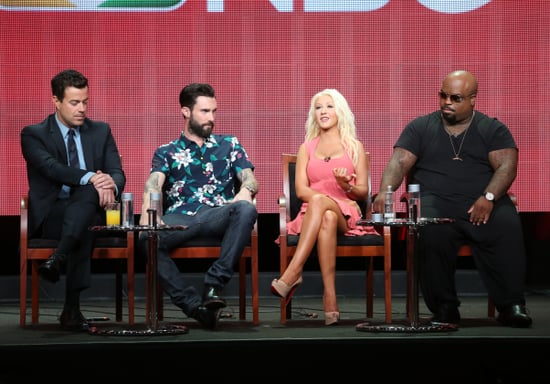 Aguilera and Green are returning to the show after taking a season off, and Aguilera is fully aware of her place coming back: "I'm coming back to the Blake Shelton show at this point." Still, the singer fully stood by her decision to take time off from the coaches panel. "It was like this train that kept gaining and gaining viewers, and I had to step away . . . I feel revived," she said, explaining that she used the time away to work on her music, travel, and be a mother. "The cameras go off, and I put on sweats and a t-shirt — the red lipstick comes off."
Aguilera also compared The Voice to her experience on The Mickey Mouse Club, and how it prepared her for her career: "It's an amazing school. I had great training on The Mickey Mouse Club, and years later, so many successes have come out of that." When prodded about why the show has yet to see any of its contestants climbing the charts, Aguilera brought up her alma mater again: "Britney [Spears], Justin [Timberlake], Ryan Gosling, all these names come from the show, but did we rocket to success right after the show? No."
The fact that the show hasn't produced a big star yet was a big topic on the panel. Levine explained: "It would be really nice if we were to launch a huge star, but a lot of things have to happen for that to happen. That lightning in a bottle that you have to capture to be successful is incredibly rare." He and Daly defended the show, noting that getting an artist to make it big isn't the "end goal." As Daly put it, "it's about the experience."