Christopher Plummer Calls Uggie "A Circus Dog"
Spirit Award Winner Christopher Plummer Is Not Impressed With Uggie the Dog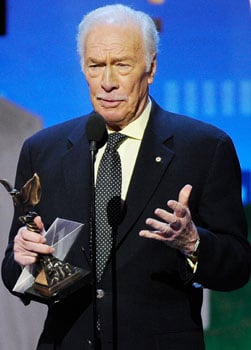 Christopher Plummer has been on fire this award season, and he earned another trophy for his collection at the Spirit Awards. Back in the press room, Plummer talked about how his character in Beginners resonated with him, why the Von Trapp name is still following him around, and how he really feels about that ubiquitous Jack Russell terrier from The Artist.
On if winning the Spirit Award gives him Oscar confidence: I don't want to talk about tomorrow. This is lovely, it's such a valuable award.
On still being recognized from The Sound of Music: The old persona seems to chase me around every year when every generation of child has to go through The Sound of Music.
On whether or not he's surprised about his winning streak: It does surprise me a little bit, because the film has not been seen by a tremendous amount of people, it opened so long ago. So I think it's absolutely amazing, and winning it, I hope it helps the film.
On what's next for him: I'm gonna croak any minute, so you have to keep going!
On how he related to his character: The humor, I think. The humor against all odds. I think it's a lesson to everyone. A carefree kind of sense of humor, no self pity at all.
On his advice for aspiring actors: If they are going into this horrific profession, they better love every minute of it. Otherwise, quit while you can.
On Jack Russell competition between Beginners's Cosmo and Uggie from The Artist: Between Cosmo and Uggie, I think our Cosmo was much more human than Uggie. Uggie was just a trickster, a circus dog. Our dog had soul!