Christopher Plummer Says He "Loves Oscar"
Christopher Plummer Says He "Loves Oscar" in the Press Room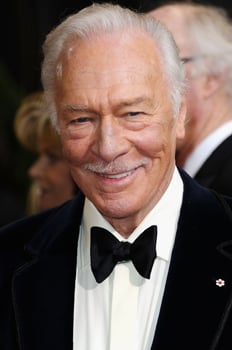 Christopher Plummer has officially swept award season! He took home the Oscar for best supporting actor for Beginners, making him the oldest winner of all time. In the press room, Plummer talked about what the honor means to him, and how he doesn't plan on retiring any time soon.
On being the oldest Oscar winner ever: I don't believe that for a second. I think that was Charlie Chaplin, even though it was an honorary Oscar. Wasn't he 83? I'm not sure, but it feels pretty good anyway.
On how his wife rescues him: I'm a naughty boy and she keeps me in line. She rescues me every day of my life.
On how it feels to sweep award season: There are so many of them, I can't keep up. They're inventing a new one every day.
On the support for actors portraying gay characters: I think as actors we're universally the same, gay or straight. A gay actor can play a straight guy beautifully and vice versa.
On how the win will affect his career in the future: It's recharged me and I hope I can do it for another 10 years at least, as I'm gonna drop dead wherever I am, be it on stage or on the set.
On whether or not he loves the Oscar: Well if the Oscar is gay, then yes. I love the Oscar!