Chuck Panel at 2010 Comic-Con Photos, Quotes, and Details
The Chuck Panel Brings the Fun and Funk at Comic-Con!
Update: It has been confirmed that Linda Hamilton has been cast as Mary Bartowski, Chuck and Ellie's mom!
Just like last year, the Chuck panel at Comic-Con was one of the silliest, most raucous, and most fun of the weekend. The fan reaction to the cast and crew of the show was impressive too — the amount of love in the room for the NBC series was heartwarming. We were treated to a reel of favorite moments from the last season, which featured lots of fights and Chuck/Sarah kisses, and it ended the same way the season finale ended: asking who Chuck's mom is. (Note: there was a scene of Linda Hamilton in Terminator but thus far, it appears the actress hasn't signed on for the role . . .yet.)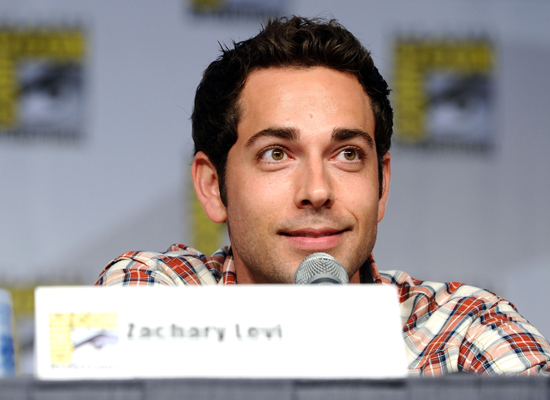 Stars Zachary Levi, Yvonne Strahowski, Joshua Gomez, Ryan McPartlin, Adam Baldwin, Sarah Lancaster, Vik Shay, Scott Krinsky, and Mark Christopher Lawrence were joined by showrunners Chris Fedak and Josh Schwartz — and each and every panel member danced out onstage. The good vibes kept rolling, with Baldwin addressing the fan support of the show and how it helped prevent the series from being canceled this year, saying, "you really put us over the top."
Hear about what you can expect in season four when you read more.
According to Schwartz, the search for Chuck's mother is going to be a "huge part of the season," in both Chuck's spy world and personal world. They wouldn't confirm the casting for mother Bartowski, but Schwartz did acknowledge the push to cast fan favorite Linda Hamilton, and even mentioned that Hamilton is aware of it — having told him, "I heard I'm Chuck's mom." If it's not her, I have faith we'll see an actress we'll be happy about; Schwartz said he thinks about "If Chuck and Morgan were real people, who would they be excited about?" And we won't have to wait long to see her, either: we'll get "a glimpse of mom in episode one."
Which guest stars will we see? Nicole Richie is coming back, and we'll also see Olivia Munn, Steve Austin, Dolph Lundgren, and — I'm dead serious — Isaiah Mustafa, the Old Spice guy! When the season starts, Buy More will be owned and operated by the CIA, with "the most incredible Buy More employees you've ever seen." Munn will play a character named Greta in the first episode, a "kick-ass green shirt." Funnily, Greta is a character that will stick around, but will be portrayed by different actors, male or female. For instance, Mustafa will also play Greta, but in the second episode!
Levi and Strahowski were asked if their working relationship has changed since Chuck and Sarah got together, and they were kind of adorable, with Levi saying that "the love's always been there." Speaking of Chuck and Sarah, it sounds like they'll continue to be happy together for a while; Fedak says "we've learned about putting people between Chuck and Sarah," and though he wanted to stay ambiguous about the subject, he made a promise to Chuck/Sarah fans: "This year, you'll be very happy."
One of my favorite moments was Gomez doing an impression of Ryan McPartlin when McPartlin teased him about being a spy first in the earlier part of this season (imagine Gomez saying "I'm a spy now" in McPartlin's distinctive voice).
Second favorite moment? When Baldwin took over the moderation of the panel, asking Gomez what he liked most about John Casey. "You have really soft hands, actually," was his reply.
Be sure to check out all of my Comic-Con coverage and follow me on Twitter for live updates!