Chuck Panel Quotes at Comic-Con
Zachary Levi Gets Choked Up as We Get Details From Chuck's Final Season at Comic-Con
The cast of Chuck took the stage at Comic-Con this morning for the very last time. There was definitely a bittersweet feeling in the air as the cast discussed their last season, particularly from star Zachary Levi who got choked up during the panel's final moments. Fans did get a few fun tidbits about what we can expect from Chuck's final episodes, particularly how the show will change now that Morgan has the Intersect.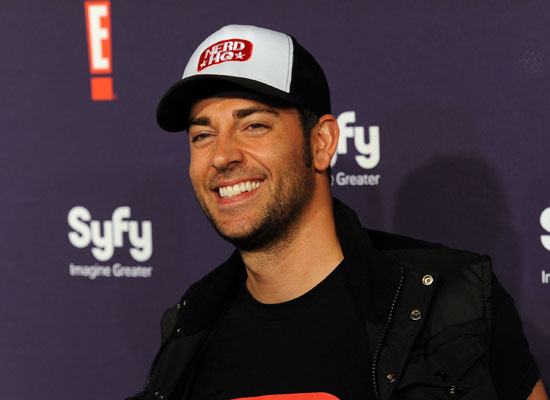 First things first: Chris Fedak hinted that one of our beloved Chucksters may not make it to the season finale! No joke, he said: "Someone might not survive this season. And it's gonna be big." Zach Levi joked that Chuck will be the one getting the axe, but we all know that won't happen. The real question is how they can kill off a major character without breaking fans' hearts.
The panel opened with a Rocky montage featuring Ryan McPartlin helping train Joshua Gomez for his new spy duties on the show. Naturally, Jeffster provided the cover of "Eye of the Tiger" (you can see the clip after the break).
Though the cast seemed somber about the end of their show, creator Chris Fedak and Levi expressed their gratitude for getting to go out on their own terms. Levi said, "It's definitely a mixed bag of feelings, and it's a bittersweet feeling for sure. But we get one more crack at it, one more season where we get to hang out and have a lot fun. We get to say goodbye to each other, and we get to say goodbye to all of you, and that's a really rare thing in television these days."
The season five premiere episode is going to feature one of the show's most exciting guest stars yet: Mark Hamill (aka Luke Skywalker).
We can also expect Casey to get a new love interest! Apparently she'll head up a spy company that competes with Chuck's new business. As for who will play her, Levi brought in laughs with his suggestion: Betty White!
To see what got Zach Levi choked up and to watch the Rocky montage, just
.
Joshua Gomez got lots of attention now that he's the Intersect. When asked about Morgan's new role, he said, "In true Morgan Grimes fashion, he's at full steam ahead. Unlike Chuck, where he actually thought things through and cared about the welfare of other human beings, Morgan just wants to hurt people with kung fu. I'm very excited, I'm scared to death. I couldn't be more excited, I hope you guys enjoy it and I hope I can bring some funny goofiness to the Intersect project."
Fedak added that we'll learn that the Intersect affects different people in different ways, revealing that by the third episode, "Morgan will have frosted his tips." One can only guess what that means, but I'm thinking the Intersect will be giving Morgan an ego boost.
The cast was asked to give their ideas on how the series should end, which opened up the forum to some pretty funny one liners. Levi said it should end "awesomely," while McPartlin suggested "a feature trilogy, much like Lord of the Rings." Adam Baldwin said he's still not convinced that this is the end, while Vik Sahey joked that he'd like to see Lester die a glorious death (preferably in slo-mo).
Levi got choked up and teary-eyed more than once during the panel, particularly when thanking the fans and discussing his fondest memory. He said, "I would have to say being down here our first year and being so grateful that San Diego Comic-Con even invited us down. And having 2,000 people at a showing of a pilot that nobody had even heard of . . . I look back on that moment and honestly it's quite amazing. I got a standing ovation and started crying, and I felt like such a sap."
Watch Joshua and Ryan train together to the sweet musical stylings of Jeffster: