Claire Danes Talks About Homeland and My So-Called Life at Summer TCA
Claire Danes Talks About Her "Dangerously Bright" Character on Homeland and Leaving Angela Chase Behind
Showtime introduced new drama Homeland at the TCA, bringing out star Claire Danes to chat about her starring role as a CIA agent. Her character is convinced that a rescued prisoner of war (played by Damian Lewis) has been turned by the enemy while he was imprisoned. She, Lewis, and costar Morena Baccarin joined executive producers Howard Gordon and Alex Gansa to talk about how they'll make the terrorism-themed series compelling.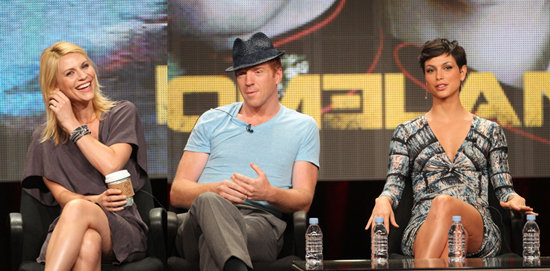 Danes said she gravitated to the role because the character of Carrie Anderson is "incredibly bright, at times dangerously bright, formidable, focused, compulsive, even myopic . . ." but that she can be very sensitive, a juxtaposition Danes finds interesting. She also mentioned one of the pitfalls of starring on a cable drama, joking that on Showtime "you get to curse a lot, you get to get naked a lot."
Lewis talked about the torture scenes his character has to endure in flashback, mentioning that he's already been beaten with a club, hung upside down, and peed on, but don't worry about him: "I don't mind too much filming that stuff, oddly." He believes that the scenes are "as real and as brutal as those things are," and that they're not for shock value, but to show the psychological state of the character. He's been broken down because "torture feeds the psychology of the piece. . . so it's important to show it." Danes joked that after Lewis films the scenes "Occasionally I'll see him at the craft service table looking very, very distressed."
To find out why the producers think the series is so relevant right now and the similarities Danes sees between Homeland and My So-Called Life, just read more.
Baccarin is best known for her role as an alien on V, so she kidded that she was "just excited to be playing a human being" on Homeland. She plays the wife of Lewis's character, and was grateful "to be dealing with something that is deeply a human struggle." And of course, her famously cropped haircut came up. Baccarin said she was dying to grow her hair out after V but she still has to sport a wig for the first few episodes of Homeland.
Executive producer Gordon said that the timing of the show with what's going on in the world is "significant, accidental, and fortuitous," and mentioned that they learned that Bin Laden had been killed when they were on episode two. He said they have had to figure out how long they can we keep the "is he or isn't he" question of whether Lewis's character has been turned alive, but he thinks they have made the uncertainty compelling.
Danes was asked about any similarities Homeland had to the show that made her famous, My So-Called Life, and she joked: "I'm not breaking out as much as I was then, so that's a relief," but she highlighted one important thing they have in common: Homeland "feels similar in that it's really smart."