Cloud Atlas DVD Release Date
What to Rent: New DVDs This Week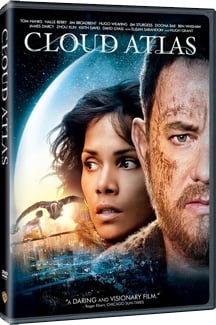 Tom Tykwer teams with Andy and Lana Wachowski to take on the epic task of adapting David Mitchell's sweeping novel that occurs in different times and places. The filmmakers enlist a crew of A-list actors, including Tom Hanks, Halle Berry, and Jim Broadbent, to play several versions (and races) of themselves. Their interweaving stories prove how the present can be affected deeply by the past, and despite its cast and how visually impressive it is, Cloud Atlas is a letdown. The DVD comes with the featurette, "A Film Like No Other."

68%
A Glimpse Inside the Mind of Charles Swan III
Charlie Sheen, Bill Murray, and Jason Schwartzman collaborate with writer/director Roman Coppola for this self-absorbed turkey of a film. Sheen is Charles Swan, a graphic designer whose life falls apart when his true love (Katheryn Winnick) breaks up with him. Set in a stylized Los Angeles, the "comedy" outstays its welcome, even at a quick 84-minute run time. Aubrey Plaza, Patricia Arquette, and Mary Elizabeth Winstead also star.
16%
See one more new release after the jump.
Sons of Anarchy stars Charlie Hunnam and Ron Perlman join forces for bizarre comedy Frankie Go Boom. Hunnam and Chris O'Dowd play brothers trying to track down the sex tape of Hunnam's character and a former lover (Lizzy Caplan) before her dad (Chris Noth) finds out about it. The rude and crude film very can be sweet at times, despite how many gross gags it packs into the script. It might be worth a watch just to see Perlman play a transsexual computer hacker.
41%