Cloud Atlas Movie Review
Cloud Atlas Is Thought-Provoking, but . . .
Cloud Atlas is based on the bestselling book by David Mitchell, and its six interconnected stories follow many characters in different places and times, who are played by the same set of actors, including Tom Hanks, Halle Berry, and Jim Sturgess. This element necessitates lots of makeup and prosthetics, but it's not necessarily one of the film's strengths. It is, however, one example of how ambitious the adaptation from the Wachowskis and Tom Tykwer is. There are revolutions, love stories, and epic battles, but Cloud Atlas only fulfills some of its potential. Read on to find out how Cloud Atlas almost gets there.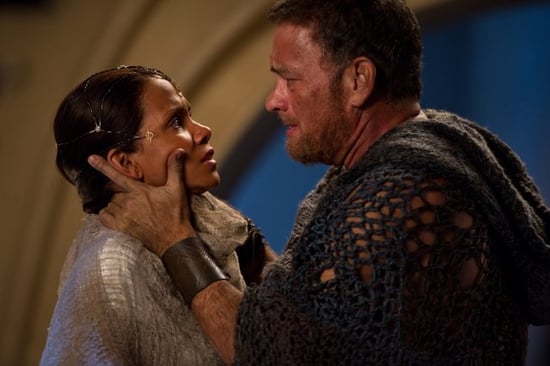 The film is thought-provoking. There are lots of interesting themes throughout Cloud Atlas, particularly the idea that we are all connected and keep meeting in different lifetimes.
But . . . The filmmakers seem determined to make sure you know that the people are the same in different time periods, using the same actors over and over again. It's an interesting idea, but the execution is all wrong. Hanks, Berry, and Sturgess are made to look like different races, ages and sometimes, genders — but it's rarely convincing. So while you're supposed to be moved by the idea that two people who can't be together in one lifetime find each other in the next, it's too hard to focus on that when you're looking at an Asian version of Jim Sturgess.
The stories are compelling. I was invested in most of the stories, especially because the narrative jumps around through them, often ending on riveting cliffhangers.
But . . . The movie is too long. Cloud Atlas runs almost three hours, comprehensively covering each storyline. The problem is that not every story is so strong. There are a couple tales that could have been left out to make the movie shorter, without losing the overarching themes.
To find out what else I thought of Cloud Atlas, just keep reading.
The cast has a few excellent players. Sturgess, Ben Whishaw, and up-and-comer James D'Arcy are wonderful to watch. The chapters where they're highlighted feel the most soulful, thanks to their affecting performances.
But . . . Some people are miscast. As much as I adore Hanks, I felt that his characters should have been played by a different, less recognizable actor. Additionally, though his and Berry's characters keep meeting and are mysteriously drawn to each other, the biggest mystery is where their chemistry is.
The movie is funny. I was giggling constantly.
But . . . It isn't supposed to be. I was laughing at how the actors looked in their silly makeup.