Colin Firth and The King's Speech Cast 2011 Screen Actor's Guild Award Press Room Quotes 2011-01-30 20:41:40
The King's Speech Cast Celebrates Their SAG Wins and Says It's "the Perfect Award"
The King's Speech won big at the SAG awards tonight! First, Colin Firth won the honor for outstanding male actor, then the film scored the award for outstanding cast in a motion picture. Firth, Geoffrey Rush, and Helena Bonham Carter stopped by the press room with their statues to talk about how the film has moved people, and why winning this particular award feels perfect for them.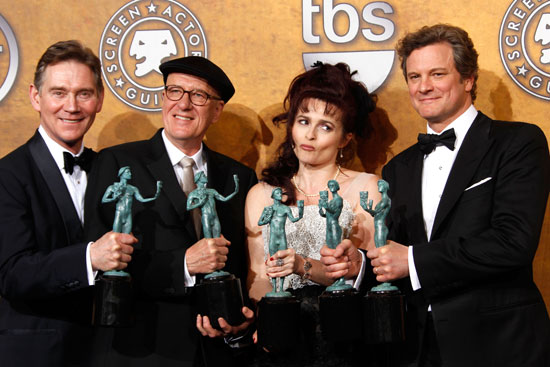 Firth, on why people have an emotional response to the film: "I've been hearing quite profound responses. They're very hard to anatomize and deconstruct and explain. One thing that pops in to my mind is that throughout the film, you are responding to interactions between people."
Firth, on describing a particularly moving scene with Bonham Carter: "She just has to sit and watch and suffer as much as he suffers. It's Helena's face looking at my face. What moves people isn't so much my face but her face looking at my face. That's what I respond to when I watch it. It's watching other people respond to other people. No one's in a bubble in this film. It's a wonderful matrix of responses."
Rush, explaining why he thinks people connect with the story: "I get texts from people from all over the English-speaking world and they all have quite, quite different responses. The storytelling doesn't seem to prescribe a fundamental response. People are allowed to connect with different things; the friendship; the failure one might have with communicating with other people. People have said [they've] loved it for its power of oratory . . . It's so great to hear a speech that galvanizes a country."
Bonham Carter, on why the ensemble award feels special: "The great thing about being an ensemble is [that] we're all dependent on each other's talent. The most important thing about acting is listening. But that's what an ensemble is, is properly listening. For me it's the perfect award for us to receive."
Make you sure you get to read all my press room highlights and be sure to vote on all of our SAG winner polls!