Comic-Con 2013 Panel Roundup
Comic-Con Roundup: All the Interviews and Panel Highlights You Need to Know About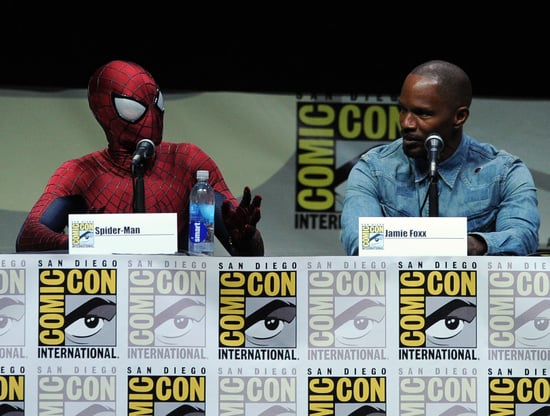 Andrew Garfield sported his Spider-Man suit for the sequel's panel — and gushed about both Emma Stone and Jamie Foxx.
Jennifer Lawrence and company cracked up the crowd at the Catching Fire panel — and debuted a brand-new trailer!
The Game of Thrones panel let fans mourn the "Red

Wedding

" and celebrate Emilia Clarke's Emmy nomination.
Divergent made its mark when the cast talked about the movie at a panel, and we chatted with star Shailene Woodley, plus Theo James, Zoë Kravitz, Miles Teller, and other Dauntless players, along with Ansel Elgort and Maggie Q.
We saw the first footage of the Veronica Mars movie when the cast reunited.
The Walking Dead panel unveiled its new trailer and lots of tidbits about season four.
Workaholics' Anders Holm talked about The Mindy Project and James Franco.
Sandra Bullock talked about her no-pranking truce with George Clooney at a Gravity press conference.
All the stars of X-Men showed up to preview the next movie.
The Vampire Diaries cast teased season five, like Damon and Elena's romance
Anna Faris talked about her animated sequel and Chris Pratt's body transformation.
The Ender's Game panel gave us some choice Harrison Ford quotes, who also told us how much he admires Asa Butterfield, his young costar. Butterfield talked about admiring Ford in kind, as did Hailee Steinfeld.
Aaron Taylor-Johnson talked about Kick-Ass 2 and why he won't be playing Christian Grey.
The Marvel panel revealed the Avengers sequel title and Loki showed up to take over.