Comic-Con Elysium Panel With Matt Damon
Matt Damon Talks Elysium and Shows Off Footage at the Comic-Con Panel
Matt Damon came to Comic-Con for the first time to promote his new film, Elysium, which no one had seen footage from — until today! The panel audience was treated to a long preview of the movie, after which stars Damon, Jodie Foster, and Sharlto Copley came out to chat about the sci-fi action flick. They were with director Neill Blomkamp, who directed Copley in 2009's District 9, and he and the cast talked about Elysium's similarities to District 9, the stunts, and the rather yucky location shoots. Check out the details below.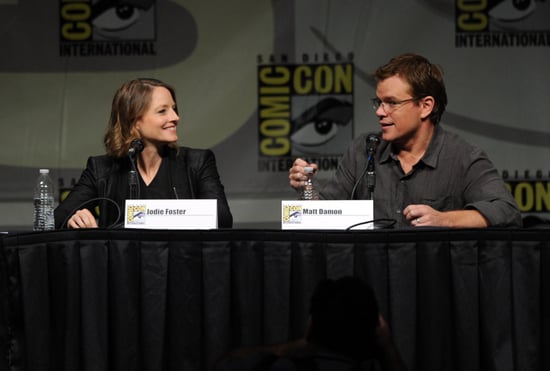 We saw a lot of footage from the film, and I have to say I was quite impressed, starting with Blomkamp's world. In Elysium, it's 2159, and Earth is a dirty, inhospitable place to live, so the rich live on a space station called Elysium. The look of Earth (which was shot in Mexico City) in the film reminded me a lot of District 9; very dusty, desolate, and cluttered with litter. We also got some insight into Damon's character Max, a former prisoner who lives in the slums of the future. When he gets infected with a toxin and has only days left to live, he agrees to a mission to Elysium. Damon's Max is tough and sardonic (and, yes, bald), and, once he gets outfitted with armor, quite badass.
Damon and Foster both admitted to being attracted to the project because they both like Blomkamp's work so much. Damon said signing on was a "very easy decision after I saw District 9," while Foster called that movie "a perfect film," and when Elysium came up, "luckily the script came in and there was a girl in it."
Damon had a funny and gross story about shooting at the second-largest dump on the world in Mexico, where, he said, the dust was composed mostly of fecal matter. He said that after shooting some days, he and Copley would be black with dust and "we'd look at each other and go, 'This is fecal matter.'" But it was worth it for the finished project, and Damon said that afterward, "Neill would run up and say, 'I promise you the photography looks great.'" Damon added, "I just tried not to think about it."
Copley was excited to be back at Comic-Con, and he thanked the audience, calling it a defining moment of his life when he came to the convention in 2009 for District 9.