Comic-Con Looper Panel With Joseph Gordon-Levitt
Joseph Gordon-Levitt Talks About Becoming Bruce Willis in Looper's Comic-Con Panel
Joseph Gordon-Levitt and Emily Blunt took the Comic-Con stage today for their sci-fi movie Looper, in which Gordon-Levitt plays a character in 2072 who makes a living as a hit man, killing people who are sent back from the future (where it's much tougher to kill people, apparently). He comes up against a problem when his next victim shows up, and it's himself, 30 years later, played by Bruce Willis. The character is tough to kill, but for Gordon-Levitt, the challenge was sounding and looking like Willis (who was shooting a film and couldn't make it to Comic-Con). Find out what Gordon had to say about that, and more details about the film below.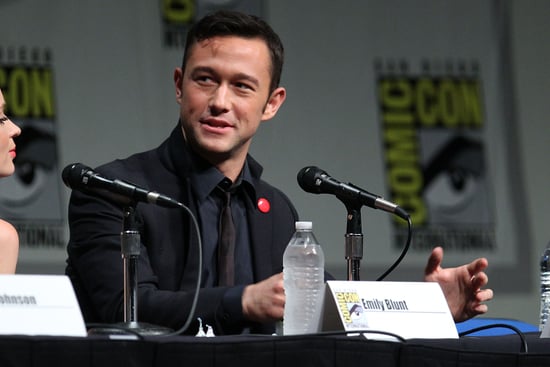 The director is Rian Johnson, who's a longtime friend of Gordon-Levitt's after they worked together on the 2005 movie Brick. Gordon-Levitt revealed that Johnson had written the character specifically for him — the first time that's happened for him.
We saw a bit of footage from the movie beyond what's in the trailer, and Gordon-Levitt's voice sounds completely different because he's trying to mimic Willis. But he clarified that he's not impersonating Willis, but rather "tried to internalize him." He said that he watched all of Willis's films and then took audio from his movies and put it on his iPod to listen to. Gordon-Levitt expressed a lot of admiration for Willis, and said that he learned the most from hanging out with the actor, calling him a sweetheart and declaring what a fan of Willis's he's always been.
If Gordon-Levitt looks a little different in the movie, then it's because he's wearing prosthetics to look more like Willis. Johnson said that after they cast Willis, he realized, "Uh-oh, they don't look anything alike," so they chose "a couple of key features; a little bit to the nose, a little bit to the lips." He thinks that Gordon-Levitt isn't just doing his best Willis imitation, but rather he's "really giving a performance."
Blunt was cagey about what exactly her role was, but in the footage, she seemed to be a love interest of Joe's (Gordon-Levitt's character). She did say that she and her family get "embroiled in this mess when Joe is a p*ssy" and lets Bruce go." The cheeky actress added that she thinks Looper is "the best movie I've been apart of."