Comic-Con Once Upon a Time Panel
Once Upon a Time at Comic-Con: The Cast Reveals Season Two Hints and New Characters
The cast and showrunners of Once Upon a Time came to Comic-Con today for their panel, and the very excited group was happy to talk about season two and what it means for the show now that magic has come to Storybrooke. Stars Ginnifer Goodwin, Lana Parrilla, Jennifer Morrison, Josh Dallas, Meghan Ory, and new series regular Emilie de Ravin joined creators Edward Kitsis and Adam Horowitz to joke around on stage and give some details about who and what is coming when Once Upon a Time returns this Fall.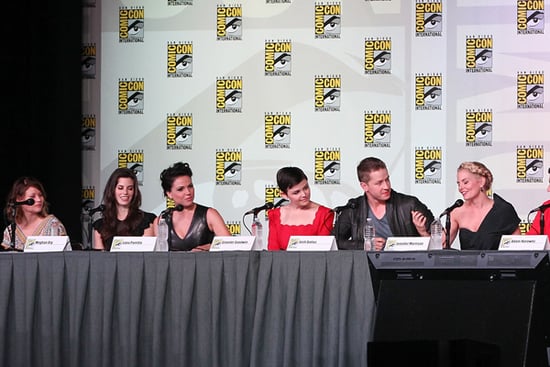 Kitsis and Horowitz revealed a few things we'll definitely see play out in season two. We'll find out who Dr. Whale's (David Anders) fairy-tale counterpart is (some audience members yelled Monstro, and the panel members didn't deny it), what happened when August/Bae turned into wood, and most importantly, who Henry's father is.
Now that the characters in Storybrooke remember their pasts, Horowitz said the characters may still go by their Storybrooke names (like Mary Margaret and Regina). "Those identities are part of who they are now," he asserted. Kitsis also assured us that even though everyone remembers their other identity, we'll still go back and forth between fairy-tale flashbacks and Storybrooke.
The cast said they just got the season two scripts the other day, and Goodwin was excited about them, telling us that "as an audience member, it's exactly what I would want to see."
The funniest part of the panel was a cute video the cast made for a fictional dating website called "Singlebrooke," in which the cast members, in character, said what they're looking for in a partner. Highlights included seeing Graham (Jamie Dornan) again, David saying he's looking for someone "milk white" and wondering if that was racist, and Leroy/Grumpy saying his ideal lady would hang out with him and his six buddies.
At the very end of the panel, we were treated to a teaser for season two (which I've included below), where one character was revealed. In the footage, a shadowy figure breaks into Mr. Gold's shop, and all you can see is his coat and black leather-gloved hand . . . until he finds what he's looking for and puts it on: a hook! So I think it's safe to say we'll see Captain Hook and Peter Pan this season.
We also saw a video compiled of the title cards the show used last season, which also included some cards from the upcoming season. If you watch, you can see some hints about the characters coming!
See two of the videos we saw at the panel after the jump.
Season two teaser:
The title cards: