Comic-Con Panel Featuring Michael Cera and the Cast of Scott Pilgrim vs the World
Scott Pilgrim and the Gang Bring the Fun to Comic-Con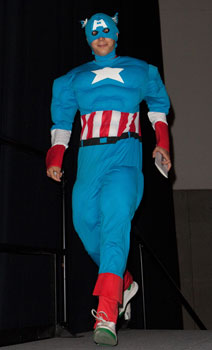 Boasting perhaps the biggest ensemble of Comic-Con, the cast of Scott Pilgrim vs. the World — led by director Edgar Wright — came out in force to debut new clips from the film and end the first day on a funny note. Stars Brandon Routh, Anna Kendrick, a mustached Jason Schwartzman, Aubrey Plaza, Alison Pill, Mae Whitman, Kieran Culkin, and Michael Cera all showed up to promote the movie. In fact, the only glaring omission was Chris Evans, who is currently shooting Captain America, but have no fear, because his substitute still managed to make it out! OK, so it was just Michael Cera in a Captain America costume, which had the rest of his cast members struggling to keep a straight face. Here are the highlights:
Scott Pilgrim really felt like the perfect movie for the Comic-Con crowd. Since it's based on comic books, you had followers of the series waiting in line to catch creator Bryan Lee O'Malley, fans of Hot Fuzz and Shaun of the Dead director Edgar Wright, and girl groupies there to see Cera. Needless to say, it was a rowdy crowd.
Wright actually led the discussion, which made for a sillier panel than most. He kicked things off by introducing each of his actors and then asking them one question to be answered in one word. Some examples: "How daunting was it to learn drums?" Pill: "Very." Wright: "On a scale of one to 10, how disapproving are you of Scott Pilgrim in the film?" Kendrick: "Five." Wright: "How much did you enjoy beating Scott Pilgrim's head into a curb?" Schwartzman: "Comic-Con-ishly."
To hear more about the film, including Cera and Schwartzman's shower scene,
.
Cera's physique was a topic of hot debate, as the actor explained the intensive fight training required of the cast (with Jackie Chan's people, no less!). Yet his body looked remarkably . . . exactly the same as before. "I loved getting into excellent shape, which if you watch the movie, you'll notice I got in really good shape," he explained. "And I felt fantastic, mentally and physically. [Long pause] That was a long time ago." Wright added that they referred to him as "Mikey, the Push-up King," though Cera unfortunately did not grace us with any of his push-up skills.
Wright previewed two new clips from the film, in addition to a longer trailer. Perhaps the most promising part of all of the footage, however, is just how fast-paced and sharply funny the movie looks. Plus, I couldn't help but notice the music. This film is going to have a rockin' soundtrack.
Arrested Development update! Well, not exactly, but Cera did once again state that he'd like to make the movie, and he thinks it will happen. That's all he had to say.
When you go see the film, listen closely to the sound effects. Wright revealed that he pulled bits from older games like Sonic the Hedgehog and Zelda to give the movie that video game feel. Also watch for a guy-guy kiss with Kieran Culkin in the movie. Culkin admits that Wright helped ease him into the potentially nerve-wrecking scene by planting "a very wonderful kiss" on his lips. Wright bragged, "Do you think Sylvester Stallone kissed the cast of The Expendables? No. I take one for the team."
After the kiss was out in the open, Jason Schwartzman commented on his own favorite scene with Cera: "Our shower scene. That was exciting, because I feel like the training paid off." Added Cera, "We shot it over two weeks."
Be sure to check out all of my Comic-Con coverage and follow me on Twitter for live updates!