Comic-Con Total Recall Panel
Jessica Biel, Colin Farrell, and More Talk Total Recall at Comic-Con
The Total Recall cast took the stage at Comic-Con to talk about the futuristic reboot, which is due out in August. Director Len Wiseman and stars Colin Farrell, Kate Beckinsale, Jessica Biel, and Bryan Cranston were on hand to talk about the fun shoot and how they felt about filling the shoes of the actors in the original film, while we also got to see a bit of new footage. Keep reading for the highlights from the panel: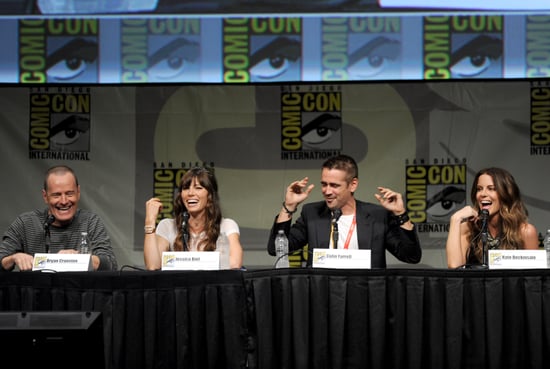 The actors talked about how their roles differ from the 1990 original. Arnold Schwarzenegger played Doug Quaid first (Farrell's role), and Farrell assured us that he "didn't feel the need to fill the size 16, size 18 shoes, whatever Arnie has." Beckinsale asserted that her role, the female villain Lori, is not exactly the same as Sharon Stone's role; Beckinsale said her Lori is a mix of a couple of characters of the original movie, and though "Sharon Stone rocked it, our tone is very different, and it doesn't seem like the same character."
The cast talked about their preparation for the very physical film, which Biel summed up quite nicely: "Boxing, boxing, boxing, boxing . . . and chicken." Not every role required such training, though, as was the case for Cranston, who plays Cohaagen. "I was training at night in the bar."
Beckinsale, who is married to director Wiseman, joked about him casting her as Quaid's wife, who ends up not being really his wife, and instead hunts him down, saying, "I'm still offended that you wanted me for the psycho b*tch wife. We'll have to talk about this when we get home." But seriously, Beckinsale seemed to relish the role, saying, "It's nice to be able to open up the crazy a little bit."
Biel clarified that her character, Melina, does have a love connection with Quaid, saying that she was happy that director Wiseman "wanted to create this love story among this crazy, amazing mess," which, incidentally, made her want to sign on.