Comic-Con True Blood Panel 2012
True Blood at Comic-Con: Alan Ball Promises "Very Hot Sex Scenes" For the Rest of the Season
The True Blood panel at Comic-Con is always a fun one, because we get to see new footage, the cast loves joking around, and well, it's an eye candy party. For this year's panel, Joe Manganiello, Alexander Skarsgard, Stephen Moyer, Sam Trammell, and Christopher Meloni showed up and looked hot, as did their female costars, Rutina Wesley, Deborah Ann Woll, Kristin Bauer, and Anna Paquin. Anna was glowing with her growing baby bump. The cast and creator Alan Ball (who is departing after this season) gave some details about the rest of season five, and they even got around to talking about Fifty Shades of Grey and Magic Mike — and we saw some hot moves from some of the panelists. Read on for the highlights.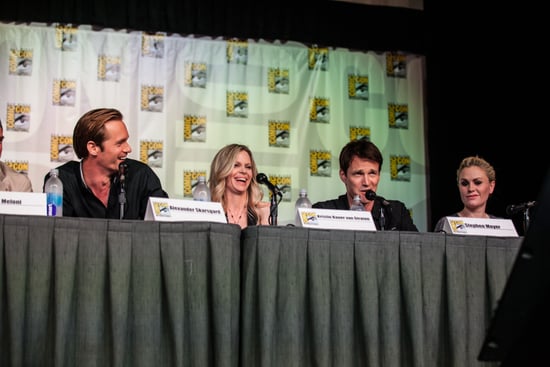 We saw a preview of the remainder of the season, with lots of juicy tidbits. The most interesting things I saw were a very alive-looking Luna, a flash of Godric, Sookie trying to get rid of her fairy powers through a ritual that would make her forget Eric and Bill, and Sookie and Bill hooking up again.
For the rest of season five, Ball teased that we will see three more romances, but he wouldn't say who they're between. He was more forthcoming about sex scenes, saying we'll get some "very hot sex scenes," and some "wacky, what-the-f*ck sex scenes. All tastes will be satisfied." We definitely know one of those participants will be Alcide, because Manganiello declared, "I sexually eviscerate one of the other cast members." I assume it's Sookie, but really, I don't care who Alcide gets it on with, as long as we see Alcide get it on!
Skarsgard was asked how he felt about his name being tossed around for Fifty Shades of Grey, and Skarsgard said, "I gotta read that book." While he mentioned that he hadn't seen a script either, Moyer wisecracked, "He's just lived the life."
New castmember Meloni talked about the differences between True Blood and Law & Order: Special Victims Unit, cracking that "trying to figure out what's a sex crime on this show is very difficult." It sounds like he's having fun, though, because he said that he loved his recent scene in which he stakes a child vampire because it was so shocking. "It's pretty much the one thing I wanted to do." If he was going to be a vampire, he said, "I was like, 'You gotta let me stake someone.'"
Read the rest of the highlights, including the Magic Mike-inspired strip show after the jump.
In the footage we saw, new vampire Tara (Wesley) takes to stripping, so the moderator asked Wesley if she'd gotten any tips from Magic Mike star Manganiello! We never heard the answer because the panelists devolved into a world of strip moves. The highlights included Manganiello getting up and pretending to take his jacket off; Ryan Kwanten yelling at Manganiello, "Take it off! Come on, fireman"; and Wesley standing up and doing a body roll, which Ball topped by standing on the table and doing almost a full minute of body rolls. It was mind-blowing, to say the least.
Will Tara and Jessica be able to be friends after Tara was caught feeding on Hoyt? Woll, who plays Deborah, thinks so. "Girls will be girls. We'll figure it out."
Bauer got emotional talking about the bittersweet recent scene of Eric releasing Pam, and she said it was so sad that "I almost refused to shoot it." She said she cried when she read it at the table read and then in rehearsal. Skarsgard joked, "Then when it was your close-up, nothing."