Comic-Con Vampire Diaries Panel 2012
The Vampire Diaries at Comic-Con: Ian Somerhalder Says Elena Is a "Badass Vampire Girl!"
When The Vampire Diaries comes back for its fourth season, there will be a big change: Elena's a vampire! The shocking cliff-hanger closed out season three, and when showrunners Kevin Williamson and Julie Plec hit the stage at Comic-Con today, they addressed the transition. They also had members of their very good-looking cast on hand to chat, including Ian Somerhalder, Nina Dobrev, Paul Wesley, Zach Roerig, Michael Trevino, and Steven R. McQueen. The cast got goofy (I now know what vampire sex sounds like in the mind of Wesley) and gave up some details about season four. Check out the panel's highlights.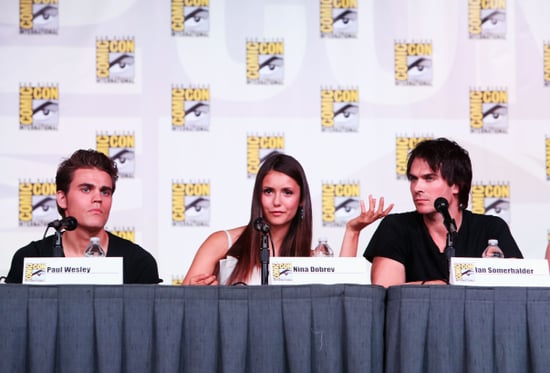 We saw a little bit of footage that was mostly a refresher of old clips, reminding us of when Elena told Stefan she didn't want to become a vampire at the end of season two. Then we saw a new clip of Damon and Stefan arguing, with Stefan angry at Damon over the decision to turn her. Stefan reminds Damon of how Elena said she never wanted to become a vampire, and Damon retorts, "Then you shouldn't have let her die."
Somerhalder teased that we may be getting bad boy Damon back! Somerhalder said that we saw Damon try the nice guy thing, and it hasn't worked out so well for him, so he may resort to his old ways: "Season two, he tried to be something everyone wanted him to be," but "bottom line, he is not a nice guy. Yes, he has a heart at times, but he's not [nice]." Somerhalder said Damon's attitude in season four will be "this is what I am, and if you don't like it, you can go f*ck yourself."
We didn't hear much about whether we'd see the other bad boy — Klaus — but he did come up once when Plec was asked if we'd ever see Katherine again. "Katherine won't show her face until Klaus is no longer a threat." That sounds promising, right?
Now I really can't wait to see Elena as a vampire, because Somerhalder said that "Elena was a badass girl, and now she's a badass vampire girl! She can take care of herself now, finally." It will lead to lots of interaction between her and Damon and Stefan, because Somerhalder said, "She's going to need help from these two." Dobrev played coy, saying that being a vampire "could be fun" and that the season will find her "struggling with the fact that she never really wanted to be a vampire."
Get the rest of the highlights from the panel, including which characters are coming back and Wesley's dirty jokes after the jump.
Roerig said that season four is "the season of Matt trying to stay human." He also said that Matt may feel so guilty about being the one who was saved instead of Elena that he might offer himself up for Elena to feed on.
As for other supporting characters, Plec said that Meredith isn't going away anytime soon: "Meredith is part of the family now. She'll be back." And even though Matt Davis, who plays Alaric, has a new show (Cult), Plec said that he's contractually allowed to appear: "It's possible, and something that all of us would like very much."
That Wesley is a joker — and one with a dirty mind at that. When Plec addressed the dilemma of Damon, Stefan, and Elena's love triangle, Wesley offered up a solution: "Salvatore sandwich!" Then he later joked around about Elena being a vampire, suggesting that there could be vampire sex, "which lasts half a second." The joke didn't stop there — he made a funny noise with his mouth, saying that was it — which he and Somerhalder continued to do at random times during the panel.